Have you ever been in a situation where you needed to sit but chairs weren't available?  Like if you're waiting in a seemingly endless line to get tickets to your favorite show?  Individuals on foot oftentimes need to take breaks from standing as a precaution for their health.  Physical strain, repetitive movements and poor posture may lead to conditions called Musculoskeletal disorders (MSDs), which affect millions worldwide.  Imagine wearing a chair so you may sit comfortably anywhere you go.  Ergonomic convenience and portability sum up the mission of the Chairless Chair, an unobtrusive chair that straps directly to the user.
The device is worn like an exoskeleton on your legs and never touches the ground, which makes it easier to wear.  According to a CNN article on the Chairless Chair:
"A belt secures it to the hips and it has straps that wrap around the thighs.  A variable damper engages and supports the bodyweight, which is directed towards the heels of the shoes.  These are specially designed and part of the mechanism, but an alternate version works with any footwear and touches the ground only when in a stationary position.  The user just moves into the desired pose and then powers the device."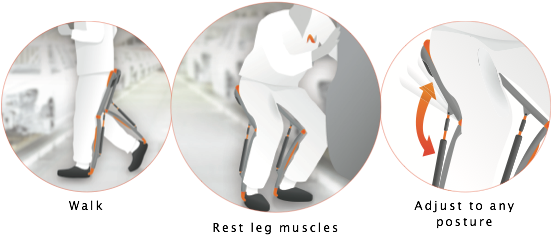 The Chairless Chair is designed with an aluminum and carbon fiber frame, which keeps the device weighing at roughly 4.4 pounds.  Its lightweight frame allows you to walk, run or sit anywhere.  In addition to resting your leg muscles, it also provides optimal posture by keeping your back straight.
Chartered physiotherapist Sammy Margo stated: "As physiotherapists we actively encourage people to move throughout the day.  This device looks like a great compromise in that it allows the wearer to move as well as sit intermittently."
There is no word yet on the pricing or general availability of the Chairless Chair, but companies like Audi and BMW will be running trials of the device later this year.