Got an email or text message to send on your iPhone?  Swipe it.  Type it.  Set a shortcut.  Select a dictionary on your desired subject (i.e. work, school, sports, etc.)  With the recently released iOS 8 update, typing on Apple gadgets gets a little easier–and a lot more accessible.
Install a New Keyboard on iOS 8
In order to experience these keyboards, lets first cover the installation process:
Download desired keyboard from the App Store
Open Settings > General > Keyboard > Keyboards > Add New Keyboard
Select your keyboard from the "Third Party Keyboards" list
As a general rule, while typing you can switch keyboards by tapping the globe icon in the bottom left corner.  (Exceptions may apply and may vary depending on desired keyboard.)
Top Four Keyboards
This is a FREE keyboard app available for iOS 8.  In short, this is the keyboard that adapts to you.  With SwiftKey, you can:
Type less: SwiftKey learns your writing style to suggest your next word.  Enter a whole word with a single tap instead of typing letter by letter.
Type more accurately:  SwiftKey features an autocorrect based on your own personal writing style; it even inserts missed spaces for you.
Type your way: for some individuals, typing on an iOS device can be fatiguing with the constant tapping of letter to letter.  With SwiftKey, you can type by sliding from letter to letter with SwiftKey Flow.  (NOTE: SwiftKey Flow is currently only available on the iPhone and iPod Touch.)
Customize: This app also allows you to choose a color theme and enlarge the keyboard's letters/number keys.
2.  Swype — $0.99
Why type when you can swipe?  This keyboard app is as its name suggests: a swiping keyboard.    With Swype, you can quickly enter symbols, punctuation and capital letters with gestures, and add custom words to its dictionary.  As with other keyboards, you can select among word predictions as you type from right above the keyboard.
On this app, there are five different themes and languages to choose from.
Adaptxt is now available for iOS devices!
Adaptxt is an award-winning, intuitive, multilingual keyboard that offers a customized input experience for users on all iOS devices.   Its key features include:
Personalized prediction and learning: Adaptxt keyboard adapts to your wriitng style by learning how you type and offers personalized suggestions and error corrections in real-time.
Languages and dictionaries: Adaptxt keyboard offers the largest global language support.  With 90+ languages, this keyboard allows you to communicate freely in the language of your choice.  Adaptxt also offers a collection of 49 specialized dictionaries spanning popular industries including medicine, law, business, sports, entertainment and more–that all feature industry-specific jargon and terminology to allow effortless typing.
Tap or glide: with this keyboard, you can choose between traditional tapping or gliding from letter to letter, (similar to SwiftKey and Swype.)
Gesture text shortcuts: gesture shortcuts offer quick ways to enter repetitive texts versus typing them repeatedly.  To do so, simply assign the text to any key and glide to it from the "123" key and quickly enter a phrase of your choosing such as, "Hi, I am in a meeting and can't talk right now. I'll call you later."
Keyboard layouts: Adaptxt keyboard offers language-specific layouts including QWERTY, QWERTZ, AZERTY and more.
Themes: There are two themes available, dark theme (white letters on black keys) or the bright theme (standard black letters on light gray) which you can switch between easily.
TextExpander 3 allows you to type faster on your iOS device in any app using the TextExpander keyboard.  The keyboard enables custom abbreviations to expand into long snippets of text, such as addresses, URLs, email signature, and form letters.  You can even insert the current date automatically using the default abbreviation "ddate"!  This app is highly recommended for individuals who do a lot of typing on their phone.
Here are a few samples of possible abbreviations for commonly typed words or phrases:
By typing "tyvm" the keyboard will automatically insert "Thank you very much!"
By typing "ttel" the keyboard will automatically insert telephone number.
By simply typing Sig3, the keyboard can transform the abbreviation into an elaborate signature as found in this screenshot: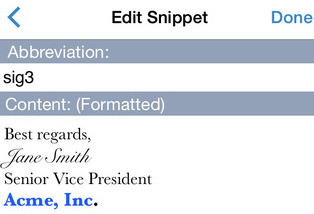 Features Overview:
Expand custom keyboard shortcuts into frequently-used text (see above example)
Works in all apps via TextExpander custom keyboard
Correct typos automatically
Use multiple snippet groups
Add predefined groups such as autocorrect, accented words, Emoji, symbols, and HTML
Use Dropbox to sync snippets with your Mac
---
Now that Apple has allowed iOS users to install third party keyboards, typing is becoming much more accessible with many apps featuring several themes, colors, layouts, input-methods and more.