Just over a month after unveiling the new iPhone 6 and 6 Plus, Apple made a few more "bigger than bigger" announcements.  During the Apple event today, Apple unveiled the new iPad Air 2 and iPad Mini 3.  The technology giant also introduced updated operating software and announced that its new mobile payments system, Apple Pay, will launch this Monday.  What do these announcements mean for individuals with disabilities?  Apple strives to make all of its products accessible to all consumers, and though today's updates may not seem so "big," the accessibility has arguably increased.
iPad Air 2:
The Apple iPad Air 2 includes Apple's Touch ID fingerprint sensor, which has been proven ideal for individuals with disabilities in a myriad of ways.  The iPad Air 2 is now coined–by Apple–as the world's thinnest tablet, with a thickness of 6.1 millimeters.  The tablet weighs in at 0.96-pound, which is about 0.07 pound lighter than the original iPad Air.
Pre-orders start Friday, October 17, and the tablet starts shipping the following Friday, October 24.  Wi-Fi model pricing begins at $499 for $16GB, while cellular models are more expensive starting at $629 for 16GB.
iPad Mini 3:
There aren't too many updates in the third generation of the iPad Mini, but there are a couple worth mentioning:
The new iPad Mini 3 now features Touch ID
7.9-inch Retina display
Pre-orders start Friday, October 17, and the tablets will begin shipping next week.  Wi-Fi models will start at $399 for 16GB with the cellular models beginning at $529.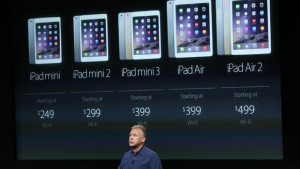 Apple Pay:
The release date of Apple's new payment system was finally announced.  Apple Pay will begin Monday!  This is arguably one of the most exciting announcements for individuals with disabilities (in my opinion.)  Visit last month's blog on the "Bigger than Bigger" event for more information on this new payment system.  Apple Pay will work with iPhone 6 and 6 Plus, as well as the two new iPads mentioned above.
Further, Apple noted that the two new tablets will not feature NFC, or near-field communication, which is included in the new iPhones.  However the tablets will include the Apple Pay technology so that users can make purchases from their device more seamlessly for online shopping.
Apple has teamed up with financial industry heavyweights including Mastercard, Visa and American Express.  Apple Pay will work at more than 220,000 retailers nationwide, including Walgreens, McDonald's, Subway, Target, Disney, Whole Foods and other major chains.