After several months of anticipation and speculation, the day of Apple's "bigger than bigger" announcements has finally come.  During these months of suspense, many predictions surfaced discussing what consumers might expect from the company.  (To view our said predictions visit our blogs on iOS 8 and the Apple iPhone 6 event.)  So what exactly can we expect in the upcoming weeks and months from Apple?  Are there any specific benefits for individuals with disabilities?  Keep on reading to find out! Ready… set… go!
Overview:
Apple announced two new iPhones: iPhone 6 and iPhone 6 Plus.
Apple announced its new operating system, iOS 8.
Apple announced its first wearable piece of technology: the Apple Watch.
Apple announced Apple Pay, a payment system that syncs to both the iPhone and Apple Watch.
iPhone 6 and iPhone 6 Plus
During yesterday's event, Apple introduced the world to the new iPhone 6 and iPhone 6 Plus.  The newest iPhone was one of the prime speculations making its way around the internet on several forums and articles.  It was rumored that the iPhone 6 would have a larger screen, to better compete with other smartphones available on the market today.
Size:
The rumor on the new size is true; the iPhone 6 features a 4.7-inch screen, and the iPhone 6 Plus has a 5.5-inch screen.  Both options will be bigger than any previous models of the iPhone (the iPhone 5/5S and iPhone 4 have 4-inch and 3.5-inch screens, respectively).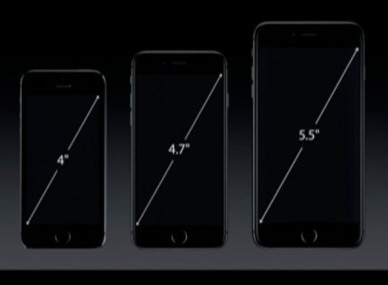 The above image features size comparisons of the iPhone 5S, iPhone 6, and iPhone 6 Plus.
The bigger screen size of both phones is going to be a major advantage for several individuals, especially those with visual impairments or even those with poor fine motor skills.  With the increased screen size, the content will augment distinctly, making it easier to see text and to select desired tasks.
Bonus:
The screen is covered with an ion-strengthened glass, making the screen harder to scratch or shatter.
In addition to its durability, the cover glass will also make the content on the screen crystal clear.
Wi-Fi: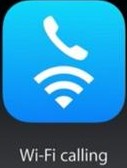 The Wi-Fi on iPhone 6 and 6 Plus is up to 3x faster than the iPhone 5.  With the new connectivity features, users can initiate calls over Wi-Fi using their own phone number.  This is great when someone may not have a good cellular signal. Author's Comment: This feature stood out to me because I myself have been in several situations where I have Wi-Fi connection but no cellular signal and really needed to call someone for help.  Email and texting are great–but in case of emergency this Wi-Fi calling may be especially handy!
iOS 8
Keyboard:
Starting September 17, Apple consumers will be able to download the newest operating system, iOS 8.  Which as predicted includes a smart keyboard, making texting and writing on any iOS device simpler than ever before.
With the QuickType feature enabled, users will be able to type entire sentences with only a few taps.  With its built-in prediction feature, users can tap to choose the perfect suggestion for their next word.  This will help eliminate fatigue and indubitably speed up productivity for individuals who may struggle with the current format of the keyboard.
A majority of individuals use different tones between emailing and text messaging.  This smart keyboard begins to recognize to whom the user is typing and whether he or she is in Mail or Messages.
There is also a third-party keyboard experience offered now.  For the first time, iOS 8 opens up the keyboard to developers.  This means multiple keyboard options will become available and each user can choose which keyboard is most ideal for his specific needs.
Messages:
If typing is still a challenge, the updated Messages app will allow users to "tap to talk, then send instantly."  By holding down the new microphone button, users can record an audio message in lieu of texting directly in the Messaging app.  All that is necessary is a swipe up to instantly send the recording.
Seamless Connectivity:
Apple aims to keep their devices as in sync as possible.  With the new update, they take connectivity even further.  Now users can start writing an email on their iPhone and pick up where they left off when they get on their Mac.  They can even browse the web on their Mac and continue from the same link on their iPad.
And to continue from the bit about Wi-Fi: What if you need to make a phone call but your iPhone is currently out of reach?  Because all three devices connect better than ever, you can make a phone call directly from your Mac or iPad.  (Again, I have been in such a situation where I may have dropped my phone or left it in another room, but had another device handy.)
Apple Watch
"One more thing…" was always Steve Jobs' thing; it's how he brought a presentation home with a compelling final addition.  Tim Cook has refrained from using it for a couple years, perhaps out of respect, but Cook brought it back yesterday to introduce a new wearable category with the Apple Watch. During the keynote, the Apple Watch was dubbed the "most personal device ever created" by the company.  It is designed to be aesthetically pleasing but wholly functional.  It is a device that helps wearers stay on schedule, in touch, and headed in the right direction. There are three editions of the Apple Watch to better suit individuals' unique needs and preferences:
Apple Watch: Stainless steel or space black stainless steel cases.  Sapphire crystal.  A range of stylish bands.
Apple Watch Sport: Anodized aluminum cases in silver or space gray.  Strengthened ion-X glass.  Colorful, durable bands.
Apple Watch Edition: 18-karat gold cases in yellow or rose.  Sapphire crystal.  Exquisitely crafted bands and closures.
In lieu of covering the specs of the Apple Watch, I took notes during the live keynote speech highlighting details that may benefit individuals with disabilities:
The crown (the small twisty dial thing on the side of a watch) is a standard feature found on watches for more than a century.  Apple kept the standard feature but created the Digital Crown, a multifunctional input device that lets you zoom, scroll, and select without covering the screen.  While handling such a small screen, some individuals may struggle pressing the desired task; the Digital Crown takes away this stress, making tasks simple to perform with a single turn or press of the Crown.
The watch features a tactful feature that can notify the wearer of an important meeting, an incoming call, text message, etc., without being too distracting like an alert tone.
Apple also took advantage of the tactful feature by integrating it into the Maps app, guiding a person to his desired destination without him having to look at his phone or watch.  This may greatly benefit individuals with visual impairments.
Apple Pay
Aaaaaaand lastly, Apple created a new system of payment: Apple Pay.
I am personally very excited for this feature.  I will first have to admit my love for shopping, but there is one part I strongly dislike: checkout.  When I head to checkout, I have to rummage through my purse, to get my wallet, to get my card out…  It's personally a challenge for me and my clumsy fingers.  There have been a few instances where all the contents of my wallet end up on the floor; not only is that embarrassing, it's also a major security problem.  Or if I do successfully obtain the plastic card, I have to reach up and attempt to swipe it then enter a PIN number on a keypad I can't even see?!
Moving on, I do always have my phone handy.  I have always dreamt of how to make the payment process easier: "What if I could just save my card in my phone securely?"  With Apple Pay that is now an option!  The wasted moments of fumbling for my card may soon be a thing of the past. Apple Pay will be available on the iPhone 6, iPhone 6 Plus and Apple Watch starting next month.