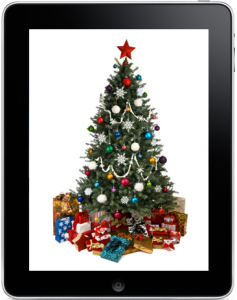 Two things most kids love are Christmas and iPads. What better way to celebrate both than with Christmas apps?! Whether you are looking for apps to navigate the season, learn about christmas, make a christmas card or just for creative play we have a list of kid friendly apps for all types of abilities.
The 12 Apps of Christmas:
1.123 Kids Fun Christmas Tree: kids can choose from 6 christmas trees to decorate with a variety of ornaments to choose from to decorate with a simple drag and drop menu for anyone with fine motor dexterity issues. The music can be turned on or off depending on child's needs/interests.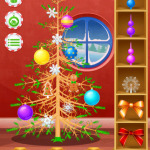 Cost: Free
2. Sleeps to Christmas: Who does not get anxious about Santa's impending arrival? Sleeps to Christmas allows you to choose from a variety of drawn characters that hold a sign that counts down the nights, hours, minutes and seconds to Christmas. Those who are comforted by routine will love being able to simply click the app and see how many more sleeps they have until the big man arrives. You can even shake your iPhone or iPad to make sleigh bell noises.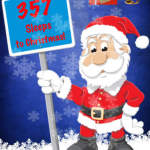 Cost: Free
3.How the Grinch Stole Christmas- For those with learning diffuculties or just learning to read this classic book is a perfect option. The book has narration options such as text highlighting and recorded audio where a child can choose: "read to me, read myself, or auto play". They can practice reading skills while the word is highlighted and the audio reads the book out loud.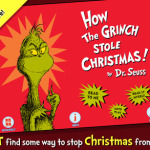 Cost: $4.99
4.First Words Christmas – This app has 40 illustrated Christmas words that have matching holiday sounds teaching kids seasonal vocabulary. This app helps kids learn the relationship between letters and words and the level of difficulty can be increased or decreased to match the ability of the child.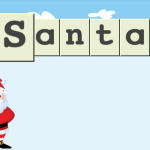 Cost: $1.99
5.Gingerbread Doodle– This is a great app for kids that may not have the motor skills to make a gingerbread house. This app allows a child to create a virtual gingerbread house. The child gets to pick a style, mix the dough, build the house, and decorate the house. This emphasizes creative play and teaches kids a little about cooking.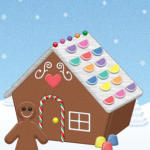 Cost: $0.99
6. Toonia Cardcreator -This is a very easy to use app that is great for kids with fine motor issues to be able to create a personalized greeting card. Kids can pick, customize and arrange the artwork for the card and add a personal note. They can be printed to be shared or sent by e-mail, Facebook or Twitter.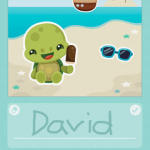 Cost: $0.99
7.I Spy a Reindeer– This is a geat app for those on the autistic spectrum or early learnings to use the personal pronoun "I" and "me". There are interactive themed stories that can teach childrent to identify and categorize words. All the animations, sound effects and narration can be adjusted.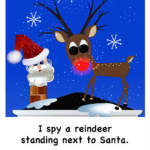 Cost: $0.99
8. More Holiday Dinner– is a great app for speech and life skills. Kids can plan the virtual meal and mix, bake and even carve the turkey, ham, roast or lamb. After they make their holiday meal they can go from the kitchen to the to the diningroom to serve up a plate. They will have a lot of fun creating the perfect holiday meal while learning to follow directions.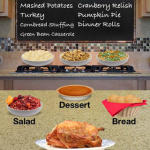 Cost: $0.00
9.Christmas with Corabelle– This educational Christmas app will teach children nubmers, colors and shapes. There are 5 educational games to play within the app which are: Christmas Matching pairs- where kids try to remember teh correct pairing of pictures, Christmas Necklace- where kids find the right combination of shapes and colors to creat a necklace, Aiming and Throwing- where a Christmas bulb has to be put in a flower pot, Matching Numbers and Amounts- where you have to move the Christmas presents to the appropriate number, and Matching Numbers and Addition/Subtraction game- which has addition and subtraction games using the numbers 1-10.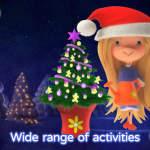 Cost: $1.99
10. Make a Scene: Christmas– This animated sticker app is a great way for kids to work on fine motor skills and learning picture name recall. Kids make scenes by dragging and dropping stickers on animated backgrounds.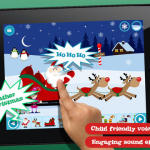 Cost: $2.99
11. ABC Christmas– this app teaches kids new words with pictures, sounds, videos and interactive games. It has 45+ chrismtas words and each word has 3 image of that word to learn things related to Christmas.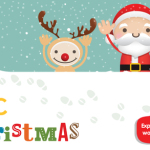 Cost $2.99
12. Christmas:Coloring book– This is a great christmas coloring book app that is ideal for kids with love vision. The crayons are all in a movable row so it doesn't take up the entire screen and it has a zoom feature to enlarge the entire picture with bold black outlines for good contrast. There is an "in the lines" option to keep coloring in the lines if they stray a bit for those with dexterity issues.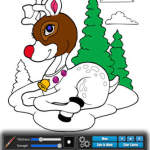 Cost: $1.99
An iPad with all of it's wonderful built-in accessibility features is a great tool for kids with special needs. Paired with fun educational apps you can encourage your child's creative play while learning important skills. These are just a few of the great holiday apps out there. If you would like to find more apps for kids with special needs whether they are holiday related or not, visit www.eastersealstech.com/apps for links to great sites that can help you search for apps.