Individuals who use a manual wheelchair often find themselves unable to successfully travel through rough terrain.  Racing is also a major challenge for these individuals, as they have to focus on the chair not tipping over, thus they must pause to pop wheelies over obstacles on the course.  Naturally, there are specific chairs designed for such events, but they're expensive and individuals prefer to stay in their own chairs.  Is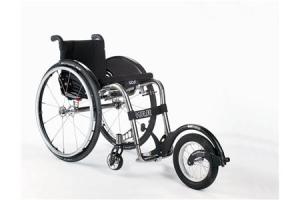 there a way to turn their everyday manual wheelchairs into a free wheeling machine?  The FreeWheel attachment makes this possible!
The FreeWheel is designed to be used on a manual rigid frame or folding wheelchair.  Initial installation may take approximately 15 minutes or less, and then after that the FreeWheel clamps on and off in seconds!  Once it is installed, your wheelchair casters are lifted off the ground, turning your chair into a 3-wheeler, making it easy for you to roll over any obstacle including: gravel, snow, sand, grass, curbs, dirt trails and more!
Here's what people are saying about the FreeWheel:
"The FreeWheel has drastically changed my life. I run with my dog without any fear of flipping out of my chair. It glides over any surface and feels so stable."
-Eddie, California
"This is the best thing I've spent money on in years! Straight out of the box, attached in 5 seconds and gone … I mean gone! Flying across the grass and out into the gravel alley. Flew through potholes, floated over branches, with no slowing down. AMAZING!"
-Shaun, Canada
"I did the half marathon and with the FreeWheel it gives you the luxury of just concentrating on your pace and the mechanics of moving the chair. I found myself smiling at lot when I approached obstacles that would have terrified me without the FreeWheel. Ruts, trolley tracks and pot holes were no problem."
-Bob, Arkansas
Watch the video below for a demonstration on attaching the FreeWheel:
For more information, click here or contact the company at info@gofreewheel.com.