Over the past few years, there have been countless smart devices released on the market.  This includes smart watches, wristbands, thermostats, locks, and other home automation devices–all of which sync to your smartphone.  We already have the ability to connect to virtually anything, so what's left?  Well, with the smart mattress cover Luna you now have the ability to make your bed smart in just two minutes!
Ben Kepes wrote about the smart mattress cover in a Forbes article:
If Google's acquisition of Nest last year showed us anything, it is that connected devices, especially in the context of a home setting, are going to become an increasingly important part of how consumers live their lives. And where there is a big consumer opportunity, there is always significant activity in the startup realm. Today's example is Luna, a fascinating product due for general release later in the year that brings connectivity and intelligence to the humble mattress.
The idea of a smart home was once science fiction.  However, it is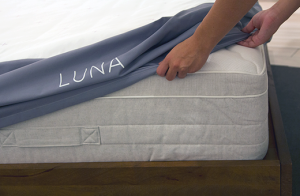 quickly becoming the "norm" as many people can control their locks, lights, thermostats, appliances and more with their mobile devices.  The creators behind Luna utilized this smart technology to create the first ever smart mattress cover.
There are five essentials for humans to survive: food, shelter, oxygen, water and sleep.  Though sleep was once not deemed a necessity, studies now prove it is essential for our overall health.
As you may or may not know, there are apps available on mobile devices to track your sleep cycle, as well as wristbands that track your sleeping habits–all with the goal of getting you a better night's rest.  However, Luna is entirely different because it is a thin mattress cover that eliminates the need to wear anything while sleeping (or to sleep with your phone on your bed.)
Overview of Luna's Features:
Luna offers six great features:
1. Dual zone temperature
2. Sleep Tracking
3. Smart Alarm
4. Auto Learning
5. Mobile Controlled
6. Smart Home Integration
1. Personalized Temperatures
Luna's dual zone technology provides the option for you to select different temperatures for each side of the bed.  On its own, it learns your regular bed time and sets your bed to a comfortable temperature to help you fall asleep faster.
2. Sleep Tracking
Luna's advanced technology has the ability to track your sleep quality, including sleep phases, breathing rate, and heart rate, without you having to wear anything to bed.  It combines the data about your night with information about your day and uses those insights to recommend what works best for your sleep.
3. Smart Alarm
As it learns your sleeping habits, Luna's built-in smart alarm wakes you at the right moment of light sleep so you can wake up at your highest energy level.
4. Auto Learning
The Luna mattress cover learns on its own and programs itself to create a personalized schedule for bed temperature adjustments, and continues to adapt to your changing life.
5. Mobile Control
How often have you dreamt of warming up your bed on a cold night when you're on your way home?  Now you can!  You can control the smart mattress cover from your smartphone or tablet wherever you are.
6. Smart Home Integration
Luna was designed with the smart home in mind, to provide convenience and security while you sleep.  Luna is paired with the following four partners, allowing it to work with smart thermostats, light bulbs, door locks and more:
Beep