If you've followed our blog or kept up with technology news, you'll notice there are several wearable technologies to benefit consumers, such as Google Glass and the forthcoming Apple Watch.  These wearable devices and more are undeniably great for the general consumer, but some companies design their products to benefit individuals with disabilities.  OrCam is an example of one these companies.  OrCam is a wearable designed to give individuals with visual impairments the ability to see.
What is OrCam?
OrCam is an intuitive portable device with a smart camera designed to assist individuals who are visually impaired.  It simply mounts to the frames of your eyeglasses and "harnesses the power of Artificial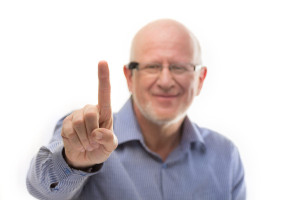 Vision to help people who are visually impaired.  OrCam recognizes products and text, and speaks to you through a bone-conduction earpiece."
The device is easy to use and responds to a simple intuitive gesture: the press of a single button or the point of a finger.  Whether you need to read text on a restaurant's menu, or need help finding an item, OrCam can help you in real time with these tasks.
Reading
The OrCam device has the ability to read printed text instantly.  You can read newspapers and books, signs, labels on consumer products and even text on a computer or smartphone screen.
Recognizing Specific Items
You can personalize your OrCam device by teaching it to recognize specific items around you.  Once you personalize it, OrCam can "recognize previously entered consumer products, money notes and credit cards to make shopping quicker and easier."
Future Features
With OrCam, you can read printed text, shop and recognize products, find items and more–all with the simple point of a finger.  In the future, the device will be equipped with facial recognition, the ability to recognize places, colors and much more.
For frequently asked questions on the OrCam, visit the Q&A page on their site.