I have already covered a myriad of topics for both Android and iOS mobile apps.  As stated in several of these blogs and other sources, smartphones and tablets have already proven beneficial for many individuals with autism, learning and cognitive disabilities, mobility impairments and so much more.  However, several individuals still struggle operating the touchscreens found on these devices without some form of assistive device such as a stylus.
Now of course when shopping for a stylus, the rule "one size fits all" does not always apply.  Many individuals with mobility impairments need a stylus with added weight, large diameter, ergonomic grip, flexibility and more.  Click here to view an extensive list of styluses provided by occupational therapist Carol Harpold.  I decided to highlight five styluses found on this list to specifically benefit persons with mobility impairments.
5 Styluses for Individuals with Mobility Impairments
The Limitless Stylus is different from most styluses found on the market today.  It is optimized for users with limited hand mobility and was carefully crafted to fit the contours of each user's hand.  It has been designed to provide optimal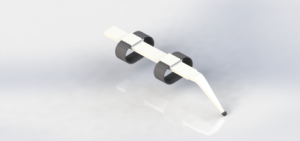 comfort for long-term use.
Features:
Lightweight
Two Velcro straps for added stability
Tip contours down for better control and precision
Available in adult/teen size, children size and toddler size.
(BONUS!  A percentage of proceeds will be donated to the United Cerebral Palsy of New York City.)
The Caudaceus by iFaraday is designed to accommodate a variety of disabilities.  It was designed for those with wrist and hand impairments but can also be used as a mouth stick.  The shaft is very flexible but sturdy, enabling it to be custom fitted for gripping or attaching.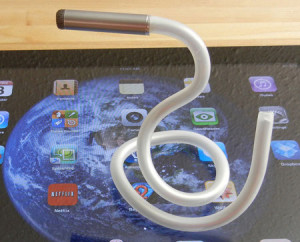 Features:
Lightweight
Bendable
Replaceable tip
Soft plastic barrel sleeve
This stylus is one recommended by therapists and teachers for children and others learning to write.  It features a triangular-shaped comfort grip to help fingers find the perfect spot.  There is also an AppCrayon app on iOS devices to learn proper letter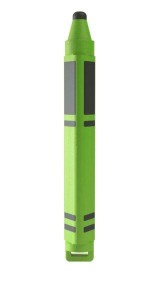 writing techniques.
Features:
A favorite among teachers
Triangular-shaped grip is comfortable and helps fingers find perfect spot for writing
Includes app to teach proper writing techniques
According to the company's website, "The Cosmonaut was born out of our desire to have a really great stylus for our iPads.  A stylus that just feels right."  Many styluses are designed to look and feel like a pen even through writing or drawing on a tablet is nothing like using a pen.  So the Cosmonaut features a wide-grip that's designed to feel like a dry erase marker with a firm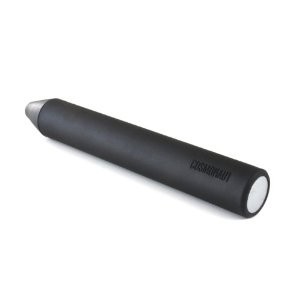 tip.
Features:
Larger body makes it more ideal for longer use
Firm, replaceable tip
Soft and grippy exterior made of rubber-like material
Solid aluminum core makes the Cosmonaut very durable
The Pencil Grip Ergo Stylus is ideal for both children and adults.  It is noted to improve the touchscreen experience with its #1 ergonomic grip coined the "Pencil Grip", which is recommended by doctors, teachers, and occupational therapists.  The unique grip on the Ergo Stylus reduces stress on the fingers, reduces fatigue, and helps the hand relax as it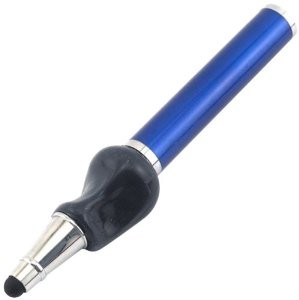 writes.
Features:
Ideal for hand health issues like arthritis, carpal tunnel syndrome, tremors, lack of strength and more.
Large shaft
Weighted
Grip provides comfort and control