The iPhone and iPad already offer many accessible features and apps for individuals who are blind or visually impaired.  However, many still find the need to purchase an additional (expensive!) scanner when they could simply use apps on smart devices with an affordable stand like the ScanJig Pro!
According to its website, the ScanJig Pro is a "simple stand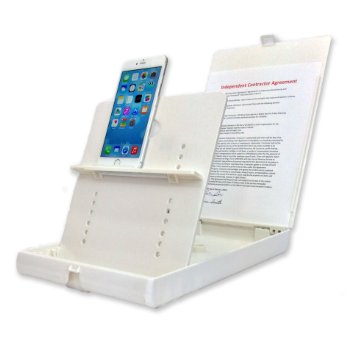 that holds your smart tablet or phone in the correct position for fast, precisely aligned scans of documents, receipts, photos, and business cards."  In other words, with the ScanJig Pro, users are able to use their existing smartphone or tablet to scan documents for text recognition (OCR).
The ScanJig Pro features rugged high-impact plastic making it more durable.  The universal stand is specifically designed to hold iPhones, iPads, and other smart devices at the correct distance to provide high-quality scanning results each time.  Here are some of the OCR apps commonly used on iOS devices:
To view supported iOS, Android, and Windows devices, click here.
Click here to learn more on the ScanJig Pro.