In the past several years, there have been many breakthroughs in the field of assistive technology (e.g. the VEST for the deaf or hard of hearing, smart wheelchairs for the mobility impaired, etc.).  A more recent example was presented by some students at Birmingham City University, who have developed the XploR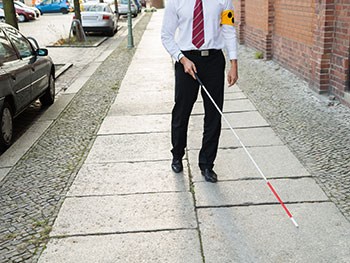 mobility cane.
XploR is cited as being "a revolutionary 'smart' cane enabling the visually impaired to instantly identify friends and family…"  The developers, Steve Adigbo, Waheed Rafiq, and Richard Howlett utilize smartphone technology to recognize familiar faces from up to roughly 33 feet away.  XploR also features GPS functionality to aid in navigation.
One of the developers, Steve Adigbo, states why the cane is especially important to him: "My grandfather is blind and I know how useful this device could be for him.  The smart cane incorporates facial recognition technology to alert the user when they are approaching a relative or friend.  There's nothing else out there like this at the moment."
As previously stated, XploR can detect faces up to roughly 33 feet away and will vibrate when detecting an identifiable individual from a bank of images stored on an internal SD memory card.  There may also be audio guidance provided, with the information being relayed via Bluetooth technology.
The team is currently researching what else is necessary for individuals who use canes (e.g. how light it is, how easy it needs to be to use, etc.)  Later this year, the team plans to test the XploR mobility cane at the Beacon Centre for the Blind.
Further Reading on XploR: