Thanks to Siri and other virtual assistants, several individuals have observed the convenience of speaking commands.  Now there is a device being introduced, called ARING, that provides the same convenience literally right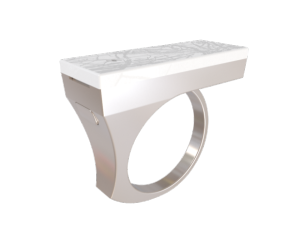 at your fingertip.  In sum, ARING is "one ring control for your smartphone."
To use ARING, you simply click and speak, then ARING will deliver your voice command to your smartphone.  This allows you to use your smartphone more "flexibly and efficiently, and you will spend less time looking at the phone screen."
How to Use ARING:
To use this ring device, short-click the button once for voice command and Google search mode.  Then there will be a blue LED light, which signals you to speak and press again to end.  (The device allows you to set customized voice commands.)
Long-click the button once for notes mode.  The blue LED light will appear again, signaling you to speak, and then press again to end.
According to its website, "ARING takes notes for you by recording voice and linking it to common apps, like Notes, recording voice and converting speech to text at the same time."
The ring-shaped device will also allow you to remotely control your smart home appliances, such as the Philips Hue, Belkin Wemo switch, and Chromecast.
2.5-3 hours of speaking
Can last up to 3 days on standby
Battery is rechargeable
Bluetooth compatible
Can operate up to 10 meters away from smartphone
Waterproof
The device is currently in a crowd-funding stage on Indiegogo.  To learn more on ARING, visit their website.