Have you ever tapped your pencil, bitten your nails, twirled your hair, or paced back and forth?  If you have, then you've engaged in stimming, an action that is often part of most individuals' behavior patterns.  So what exactly is stimming?  According to this article on Autism Spectrum Disorders, stimming is short for "self-stimulatory behavior, sometimes also called 'stereotypic' behavior."  This behavior is especially common among individuals with autism.  In a person with autism, stimming usually refers to behaviors such as rocking, spinning, flapping, or repeating words and phrases.
The article continues explaining the biggest differences between autistic and typical stimming are the choice of stim and the amount of stimming.  For example, it may be moderately acceptable to bite one's nails, but it is considered unacceptable to wander around flapping one's hands.
Like anyone else, people with autism stim to help themselves to manage anxiety, fear, anger, and other negative emotions.  Like many people, people with autism may stim to help themselves handle overwhelming sensory input (too much noise, light, heat, etc.)
It is not entirely clear why this behavior almost always exists with autism, though it's often noted as a tool for "self-regulation."  There are also several other sensory issues that exist for individuals with autism and sensory processing disorder.  To learn more about different sensory issues, be sure to check out my article Sensory Issues in Autism.
Stimtastic: Solutions for Stimming
Stimtastic is a company offering affordable toys, chewable jewelry and fidgets for teenagers and adults with autism, SPD, ADHD/ADD, dyspraxia, and more.  The company's founder, Cynthia Kim, has a goal to create a company that is for autistics, by autistics.  She said in order to do that, there are 5 key building blocks that form the foundation of Stimtastic.
5 building blocks of Stimtastic:
Affordability:  Stim toys and jewelry should be affordable and the company will work hard to bring consumers quality products at affordable prices.
Representation:  All of the products available from Stimtastic are modeled and demonstrated by individuals with autism.
Inclusion:  Stimtastic's jewelry is deliberately not categorized as Men's or Women's.  Instead, the company will provide detailed information about the sizes and measurements of each item, giving users the freedom to decide which styles work best for them.
Giving Back:  10% of the proceeds from sales from Stimtastic are given back to the autism community in some form. Either as donations to charities that benefit people with autism or as direct giving to individuals with autism in need.
Celebration: On the company's About page, they state: "Stimming is an essential part of being autistic and we're here to help you celebrate it.  We promise that our product descriptions and website will always reflect the core belief, making this a safe, enjoyable website to visit."
10 Chewables, Toys and Fidgets for Stimming:
1. Magnetic Thinking Putty, $14.50
Stimtastic's Magnetic Thinking Putty is putty with a twist.  It is a 4-inch, 3.2 ounce tin of shimmery black putty which behaves just like normal putty in your hands (and doesn't leave a sticky or slimy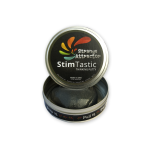 residue!)  You can mold, stretch, or shape it and it has no magnetic charge.
However, if you activate it with the included magnet, it comes alive!  With the provided magnet, you can use it to pick up paper clips and other small metal objects.
2. Thinking Putty, starts at $7.50
Stimtastic's Thinking Putty is a sensory-friendly, brightly colored, flexible and fun putty.  It is available in 9 exciting colors!
Color-Changing Putty:

Chameleon and Fuschia putty change colors as the warmth of your hands heats the putty.  Chameleon changes from green to yellow while Fuschia changes from a deep purple to a hot pink.

Super Illusion Putty:
Glow in the Dark:

The Glow in the Dark putty is white in daylight but transforms into a glowing neon green in the dark.

Metallic:

Graphite is shimmery like a metal, with a glittering dark gray that appears like liquid steel when it heats up in your hands.

Liquid Glass:

Crystal clear Liquid Glass putty is virtually invisible!  It is Stimtastic's softest putty and has a slightly sticky texture.

Classics:

Lapis Blue and Lilac are classic, bright vidid colors that sparkle and shimmer in the light.
3. Brain Twist Puzzle, $12.50
Brain Twist is both a puzzle and a fidget.  In order to solve the puzzle, you must spin the corners and then flip it inside out and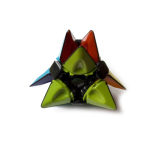 solve the other side.  The puzzle is not complete until the colors on both sides all match up.
If you're not in the mood for a brain teaser, the Brain Twist is a fun toy for stimming–you can enjoy spinning it, flipping it inside out or both.
4. Spiral Color in Motion, $7.50
The Spiral Color in Motion is a visual stimming toy which features red bubbles dropping onto spiral ramps.  You can watch them race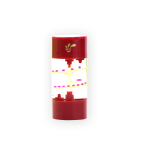 down to the reservoir at the bottom, creating a spiral cascade of color and motion.  Once all of the droplets have reached the bottom, you can simply turn it over and start the mesmerizing show again!
5. Infinite Bubble Wrap iPhone Case, $7.50
The Infinite Bubble Wrap iPhone Case is available for iPhone 4 and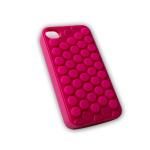 iPhone 5.  It features specially engineered silicone "bubbles" which create a satisfying popping sound when you press them.  Unlike real bubble wrap, the back side of this case can be clicked and popped an infinite amount of times for hours of enjoyment.  It is available in pink and black.
6. Infinite Popping Edamame Keychain Charm, $1.50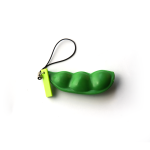 Have you ever eaten edamame or soybeans?  If you have, you may have been satisfied by popping the beans out of the waxy, furry shell.  The Infinite Popping Edamame Keychain imitates this satisfying popping action, giving you an infinite supply of edamame to "pop".  The keychain features a small loop to attach to a keychain or bag.
 7. Handheld Chewable Elephant, $5.80
There is a handful of chewable toy options available here!  I decided to highlight the adorable elephant one because elephants are my favorite.  🙂  However, all of the chewables are designed similarly, just in different shapes and colors.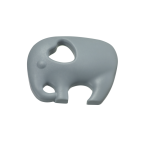 The Handheld Chewable Elephant is made from a food-grade silicone, which is tasteless and odorless and ideal for chewing.  The adorable elephant is smooth on the front, with a pattern of slightly-raised nubs on its back.  It also features a heart cutout and hooked trunk which make it easier for you to attach the elephant to a lanyard or cord for safekeeping.
8. Eni Mini Puzzle, $12.90
The Eni Mini Puzzle features eight colorful rows and columns and one empty slot.  The colored tiles slide up and down, and spin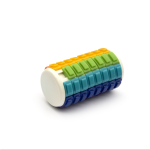 horizontally for hours of creative, challenging, stimmy fun.
With this puzzle, you can create patterns, challenge yourself to solve the puzzle by returning tiles to their original columns, or create your own solutions!  A solution guide with suggested patterns is included.
**The Eni Puzzle is also available as a keychain charm ($9.70) with a clasp which attaches to your keychain, bag, phone or bag!**
9. Bi-Color Squish Ball, $5.00
The Bi-Color Squish Ball is a gel-filled, squishy ball which changes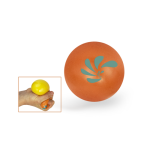 colors when you squeeze it.  When it's not being compressed it is orange, but once it's squished, it transforms into a vivid yellow!  The squishy consistency is great for squeezing and rapidly transforms back into its original shape and color once it's released.
10. Klixx Fidget, $3.50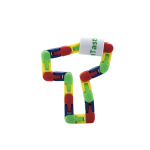 The Klixx Fidget is a colorful, jointed stimming toy that creates a popping sound whenever you twist or bend it.  The Klixx gives you several options: you can snap it into patterns or shapes, take it apart and pop it back together, or you can just bend it for the popping noise.  This is a fun auditory and tactile stim toy.  (Note: the Klixx features fairly tight joint connections so those with a weak grip in their hands may find it hard to operate.)
To learn more about Stimtastic and the company's products, click here.