For many young children, trying new foods (especially healthier foods!) can be rather challenging.  Children may be turned off by a food's appearance among other things.  The creators of Tiny Tastes are aware of these picky eaters and have thus developed the app to help encourage children to try new foods!
The app Tiny Tastes features a cute kangaroo named Tiny, "the lovable mealtime companion who encourages young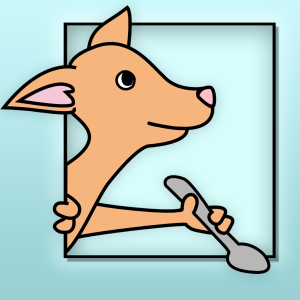 children to try new foods!"  It was developed by a Pediatric Nutritionist with years of experience helping families to improve childhood eating habits.  There are several reasons why your child may not be eating as he should be.  Jill Castle lists 12 reasons why your child won't eat on her blog, Just the Right Byte, which helps parents become "better feeders, so they raise great eaters!"  Some of the reasons listed may be resolved with help from Tiny Tastes!
Fussy eater
Too much pressure
Food jag (aka getting stuck on a few favorite foods)
Distractions
Too tired to eat
Features of Tiny Tastes:
Child's food gets shared with Tiny via in-app photos

Trying to get your little one to eat some yummy peas?  Simply take a picture of the food and it'll soon appear in Tiny's bowl!

Tiny then models taste-testing the food and encourages children to eat along with her
"Beautifully illustrated, interactive story"
Customizable content
There is a Tiny Store which uses in-game coin currency which can be earned by children eating well
Updates will offer additional story lines and items for a child to enjoy with Tiny in the app!
Tiny Tastes is available for free download on both Google Play and iTunes.  The app begins as a free trial with in-app purchases.
To learn more, visit Tiny Tastes website.