The cool autumn air always reminds me of one of my most favorite childhood activities: coloring!  I remember my younger sister and I coming home after school, drinking hot apple cider and eating warm kettle corn.  Upon finishing our after school snack, we'd rush outside and sit on the crisp, colorful leaves and begin coloring in our favorite coloring books.  Many books had a fall theme, featuring pumpkins or fun characters in Halloween costumes!  However, one of my most favorite coloring activities included tracing lines to create a picture.
I loved these dot-to-dot activities because they kept me busy counting and tracing each dot very carefully to reveal the surprise image.  This activity was a fun way for me to work on counting, learn the alphabet, and practice my motor skills.
Well, the autumn days of the 90s are long gone and many children would prefer an activity on a tablet or smartphone.  So, what's a fun, educational app offering a similar activity?  The DotToDot numbers & letters app is a possible option!
DotToDot numbers & letters was developed by Apps in My Pocket, a UK-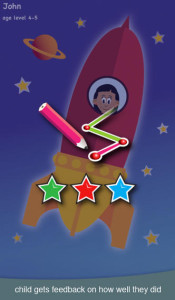 based app studio dedicated to developing educational apps for children.  "DotToDot numbers & letters is an educational app for the iPhone, iPod Touch, and iPad that brings an old children's favorite into the 21st century!"  The app is a fun way for children to learn counting, the alphabet and times tables.
Within the app, there are 12 puzzles that teach the sequence of numbers and letters through a series of disconnected dots.  Each child then connects each dot to reveal the image.
Features of DotToDot:
Primarily developed for preschool aged children, however:

Settings can be adjusted to be more challenging for older children.

Leaderboards for children to compete against friends and siblings
Practices fine motor skills
"Fun animation, graphics, and sounds your kids will love!"
The app is available on the App Store for $4.99, but a Lite version is available to try for free!