Visual Learning for Life is a company founded in 2005 by Occupational Therapist Melanie Lambert.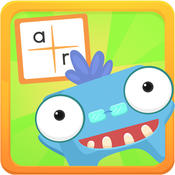 For over ten years now, the company has been dedicated to encouraging the development of individuals' visual perceptual skills by offering an extensive array of worksheets and other resources such as apps.  One of the apps I discussed in my podcast, Accessibility Minute called Spatial Line Puzzle, the other is the Letter Cross Tracking app.
The Letter Cross Tracking app is a "serviceable app that will help children remediate letter reversals and inversions and help them build skills in the areas of visual tracking, attention to detail and position of space…"
To encourage these skills, the app presents groups of commonly-confused letters (e.g. "d" and "b") and those that often cause issues with reversals and inversions on tic-tac-toe-like grids with 4-9 spaces.  Players then view a model showing 2 or 3 letters and choose the matching grids from the field of 4 to 16 elements.
When using this app, individuals can:
Develop control of fine eye movements
Learn to compare similar-looking letters and distinguish between them
Recognize the same letter positions or spatial pattern
Features of Letter Cross Tracking App:
Cute monster animation and sound effects, which make the game addictive to play
Three "cross" options with four levels of difficulty in each section
Keeps score for up to 3 players
Free version provides access to level 1 (total of 150 puzzles)
Full version (in-app purchase) unlocks levels 2,3, and 4 (450 puzzles).
No advertisements in either version
To learn more, check it out on iTunes or Google Play!