Learning and practicing articulation in English can be dull and challenging for many individuals.  A certified speech-language pathologist noted this and was inspired to develop a more exciting way for children to learn and practice articulation.  The Articulation Carnival app motivates children to practice articulation at the word, phrase, and sentence levels.  The app also makes practicing speech sounds more flexible for parents and speech therapists!
According to Virtual Speech Center, the developer's website, "It is the most fun articulation app on the market."  Children will be motivated to practice different speech sounds since they'll be rewarded with tokens for each correct production.  Once they earn enough tokens, they can play one of the four carnival games included in this app.
Articulation Carnival Games Include:
Basketball Free Throw
Balloon Darts
Duck Spraying Game
Hammer Game
To help children practice articulation, the app features thousands of images accompanied by professional audio recordings.  The Pro version is fully customizable and allows speech-language pathologists to add their own images, text and audio.  It also allows them to edit the list of targeted words prior to each session and select or deselect words for therapy.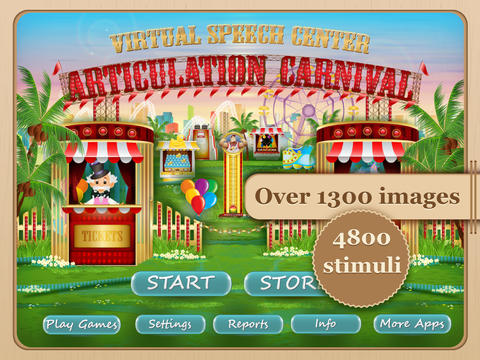 The app is easy to navigate and allows users to employ several tools to perform the following:
Add additional photos and audio recordings
Enter multiple students
Select multiple phonemes for each student
Save selected phonemes for next sessions
Select alternate counts for multiple students
Enable or disable written picture descriptions
Use audio recording feature
Track correct, approximate, and incorrect responses
Email results at the end of the game
Add notes during sessions
Save audio recordings from sessions
Shuffle pages for each session
Customize sounds for correct, approximate, and incorrect responses
Configure rewards for each game
Enable or disable game background music
To learn more about Articulation Carnival, check it out on Virtual Speech Therapy's website or visit iTunes!