"Stop fidgeting!"  I'm sure we've all been told this at least once, especially as a child.  Children just have so much energy and need to move, especially those with autism, ADHD, and other special needs.  I have written about fidget toys many times, more specifically in a post on Stimtastic, a company offering affordable toys for stimming behavior.  But if you've not read that article and/or are not familiar with fidget products, they are defined as a category of self-regulation toys enjoyed by many, as they give busy hands, fingers, and sometimes feet something to do!  There are hundreds of fidgets available to help individuals focus, relax, learn, and more, but today I'll highlight 5 fun ones that can be used in multiple settings.
5 fun fidgets for children with special needs
Children are often more productive and attentive when they're active.  Bouncy Bands for Desks and Chairs allow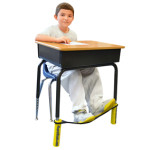 children to "wiggle while they work" without disrupting everyone in the classroom.  Bouncy Bands are a heavy-duty solid rubber bungee-like cord that attach to the legs of a chair or desk and allow children to discreetly exercise their legs while sitting.  The bands also benefit children with shorter legs as they are able to rest their feet on the Band instead of dangling them all day.
Benefits:
Quiet and don't distract others
Students are able to stay focused easier on classwork and tests
Students stay calmer when they can relieve their anxiety while they work.
Teachers notice significant improvements with children who need to release extra energy from anxiety, hyperactivity and/or frustrations from having learning disabilities.
Students love being able to move instead of having to sit still for hours.
To learn more, check out the Bouncy Bands website.
Tangle Therapy is a new ergonomic approach to hand therapy,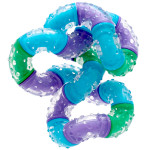 minor stress relief, building fine motor skills, and is ideal for those with sensory issues.  It features interconnected curved rubber-coated segments that can be twisted and rotated to keep hands and minds busy.
Benefits:
Manipulating the Tangle Therapy can help children learn how to multitask
Playing with Tangle Therapy can also increase manual dexterity needed for daily living skills (e.g. brushing teeth, eating, writing, etc.)
Counting the segments can teach early math skills
Fine motor skills and individual finger movements are encouraged as children play with the Tangle Therapy
Learn more on the Tangle Creations website.
The Twiddle is a soft toy that calms and increases attention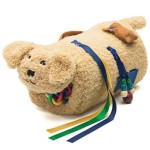 through fidgeting and sensory stimulation.  There are a wide variety of Twiddles to choose from: Classic, Sport, Cat, and Pup.  Each come with a soft-plastic orbit ball, loop of multi-colored wooden beads, textured ribbons, Velcro pull patch, and a sealed satin or buckskin crackle pouch.
Benefits:
Machine washable
The Twiddle allows children to work on bilateral coordination as they bring both of their hands to midline to manipulate the sensory items inside the plush.
Fine motor skills are encouraged as children feel and manipulate multiple components of Twiddle.
Great for children to manage their focus and attention as it allows them to fidget and move without disruption
Sensorily stimulating with different textures, colors, sounds, etc.
Learn more on Able Play.
Children learn through exploration and Busy Fingers allows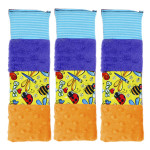 them to engage by "doing" or "feeling" through their fingertips and helps enhance learning. It is a simple fidget toy that utilizes various fabrics to provide tactile discrimination and sensory stimulation.  It can be used whenever a child feels stressed and needs to keep hands busy, or is seeking sensory stimulation.  It can also be a positive tool for children to use for transitions between activities, home, and school.
Benefits:
Promotes focus and attention.
Can be mounted via Velcro to desks, drawers, tables, and more for children to explore and expend energy through fidgeting with their fingers.
Helps direct and control movement so children can focus their energy positively and don't distract others.
Manipulating Busy Fingers can be a soothing or calming activity, which may help with behaviors and emotions.
Visit Fiddle Focus for more information.
Fidgipod was developed for adults and children alike who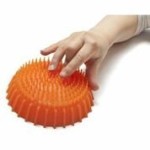 relax with sensory input.  It features a nonskid bottom so users can place it on any flat surface and run their palm or foot over it for instant calming sensory stimulation.  People are taking their Fidgipods with them everywhere–in cars, planes, offices, schools–wherever sensory stimulation is needed.
Benefits:
Instantly calming
Offers instant sensory stimulation and input
Ideal for desks at school, home, and work
For adults over age 18 with sensory disorders, "this unit alone on a desk or table is generally enough to boost concentration levels by 50%."
To learn more, visit the Sensory University website.