I am often writing about different accessible and ergonomic computer mice for individuals of all abilities.  However, I've yet to write about one you can operate using your feet–introducing Boomer: The Foot Mouse!
The foot device was invented by Becky Logue, a former dental hygienist.  She invented her first model back in 2006 (called "the Dental R.A.T.") so dental hygienists could enter data into a computer completely hands-free.  The device eventually evolved into the Boomer and is used when one cannot use their hands to access their computer.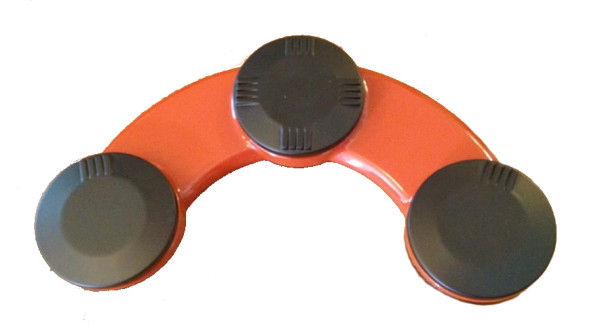 Boomer Foot Mouse Overview:
"Ridiculously easy to use"
Left/Right Click
Commonly used by doctors, surgeons and dentists to remain sterile.
Also used for computer gaming and computer programming
Also beneficial for individuals who have limited to no movement in their arms and hands, but can use their feet. For example, those with:

Carpal Tunnel
Arthritis
Stroke
Missing limbs
Specifications:
Compatible with PC and Mac
Elastomer Rubber top input discs for ease of cleaning
Rechargeable battery
Wireless Bluetooth
Rubber anti-skid pads on the bottom
Raised tabs on mouse disc for tactile feedback
18 degree angle oriented to the user
To purchase or to learn more about Boomer the Foot Mouse, click here.