Over a year ago, I wrote about Amazon Echo, a virtual assistant by Amazon that you simply place in your home.  To wake Echo, you simply say "Alexa" and the virtual assistant will provide you with music, news, weather, alarms, timers, to-do lists, and more.  More recently, Amazon has introduced two new members to their virtual assistant family: Amazon Tap and Echo Dot.  So what sets the Tap and Dot apart from their predecessor?  Let's find out!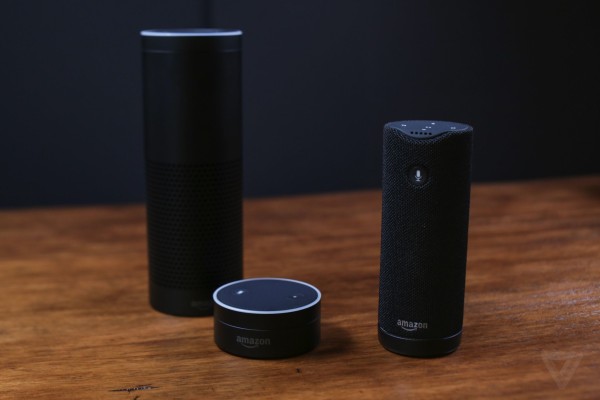 Amazon Tap is a 6.2-inch-tall cylinder speaker with a 7-piece microphone array.  In sum, Tap is a smaller, more affordable and portable version of Echo.  It'll be released March 31, 2016 and will cost around $130 (versus the Echo at $180).
Quick Overview of Amazon Tap:
Wireless
Relies on included charging cradle
Can stream up to 9 hours of audio on full charge, or last up to 3 weeks on standby mode.
Offers the same features as Echo (setting alarms, reading PDFs, weather forecasts, news, making to-do lists, etc.)
Always getting smarter and adding new features and skills
Bluetooth compatible
Main difference from Echo: Tap is not always listening.  You must tap the mic button to access Alexa on this device.
The Echo Dot is a 1.6-inch-tall cylinder with one tiny speaker.  In sum, it's the top portion of the Echo at half the price ($90) but just as smart as its predecessor.  The Dot was released earlier this month, and is available exclusively from Alexa.  (It's available in limited quantities and exclusively for Prime members through Alexa Voice Shopping.)
Quick Overview of Echo Dot:
Plugs into wall outlet
Must be connected to external speakers (tiny speaker won't output much audio; attached speaker is solely for Alexa voice feedback.)
Uses Alexa Voice Service to play music, provide info, set alarms, control smart home devices and more.
Always getting smarter and adding new features and skills
Main difference from Echo: Full-size speaker is gone.  Idea is that you'll hook Dot up to your own audio setup (via out jack or Bluetooth) so you can use Alexa with existing speakers.