Although many tasks are now being done electronically through the use of smartphones, tablets, computers, etc., many still prefer to write things out on a good old-fashioned piece of paper.  (I am definitely one of these people as I love handwriting shopping lists, notes, numbers, etc.)  However, for individuals with low vision, they often can't write and view text written by a standard pen.  This is where the Reizen BoldWriter 40 Pen may come in handy!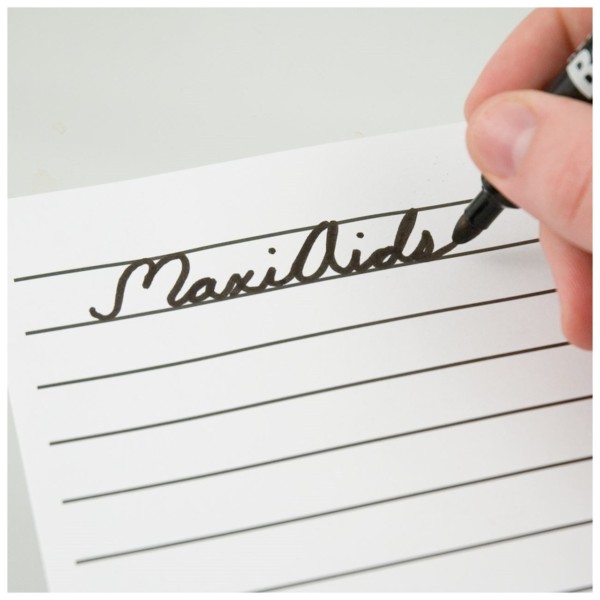 In sum, the BoldWriter 40 Pen is "the ultra-bold pen for those without 20-20 vision."  It is the supersized, bolder big brother of the BoldWriter 20 Pen, which features 1.0 mm line thickness.  So you may be wondering, "If an individual can't write with a standard pen, why don't they just use a marker to write thicker, bolder lines?"  Well, markers often present two problems: they often smudge and bleed through paper.
The Reizen BoldWriter 40 Pen is an ideal choice for individuals with low vision as it produces highly legible 2.0 mm lines.  The exclusive ink formula of the BoldWriter 40 provides "high-contrast, rich black ink that flows smoothly from the ultra-bold point."
Features of BoldWriter 40 Pen:
Easy-to-see: bold writing with highly-visible black ink
Dries quickly leaving no smudges!
Doesn't bleed through paper
Easy-to-grip design is ideal for individuals with dexterity issues
Non-toxic and superior-quality made in the USA
Available in a money-saving 12 pack
To learn more about the Reizen BoldWriter 40 Pen, check it out on MaxiAids!