Searching for an educational app full of games and flashcards to help study reading, spelling, and more?  Check out the Bitsboard app by Innovative Investments Limited!  Bitsboard allows users to study "almost anything for free across 25 addictive mini-games in one app."
Bitsboard is available to download for free and allows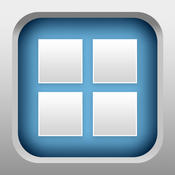 users to create their own study sets or download study sets from classmates and teachers.  Upon downloading the app, you'll have access to the Bitsboard catalog which features thousands of flashcards and lessons covering hundreds of topics (available via In-App Purchase).
Features of Bitsboard App:
Ideal for learning languages, mastering vocabulary, learning to read, speak, and much more
Fully customizable to meet each user's specific learning needs
Tracks each user's progress
Supports multiple users
Accessibility options:

Fully supports switch control to make all of the games accessible for switch users
Includes an option to increase contrast to make all games and fonts easier to view

Ability to organize your board(s)
Share and sync content across devices
25+ mini games and study modes available in one app:

Flashcards
Word Builder
Photo Touch
Spelling Bee
BINGO
Sentence Builder
Word Search
Crosswords
Letter Tracing
Match Up
and much more!
To learn more about this educational app, check it out on the App Store or visit Bitsboard.com!