Looking for an app to help your child relax before bed?  Check out Time for Bed Little Ted!  In this app, professional voice actors read a calming bedtime story, "which is supportive of early learning and has easy to use, fun interactions."
When using the app, children help the bear get ready for bed by helping him put his toys away, brushing his teeth, putting his pajamas on and more.  Throughout the app, there is soft music playing in the background, which complements the story.  Depending on the user's reading ability, the child can read on their own or hear the professional narration.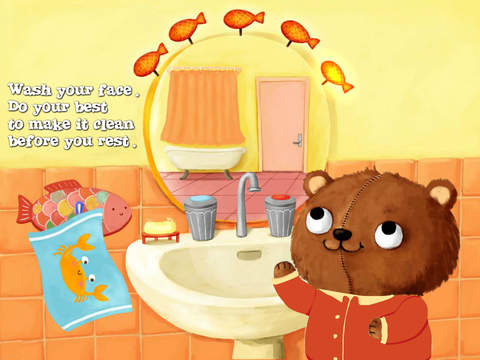 "The story app 'Time For Bed Little Ted' uses detailed hand drawn illustrations by Monika Suska, with complementary touch and sound sprites so that children can engage even more with the story.   It includes many personal and social discussion points e.g. washing hands, dressing, tidying up etc. which are as relevant to neurotypical children as to those with special needs.  Those familiar with Bloom's Taxonomy will recognise implicit aspects of the early years curriculum, as the story provides opportunities for the child to describe, list, explain etc.  There are also colour and number references which link with early learning."
Features of Time for Bed Little Ted:
Child-friendly interactions
Text highlighting
Original rhyming story available in both English and Spanish
Original illustrations by artist Monika Suska
Written by parent of a child with ASD Kryssey Hurley
"Record Your Own Narration" option which is ideal if a parent/caregiver plans to be away from home
Develops early reading skills and language development
No social media, in-app purchases, third party ads or external links!
To learn more, check the story app out on iTunes or Google Play!