Looking for an affordable way to practice your English language skills?  FreeSpeech is noted on the App Store to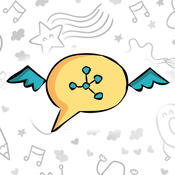 be the "#1 Best New App!"  It is an app developed to help users explore the English language.  It is a unique experience for children of all ages and abilities, and is especially ideal for visual learners!
To use the app, "Drag and rearrange picture tiles, and FreeSpeech will convert them into a perfectly grammatical English sentence."  By using the app, you'll learn about how different grammatical properties can change the structure of English.
It's noted to be a unique app because it is the only "app in the world that predicts grammar."  It was developed by a team of speech-language pathologists, educators, and researchers with over 100 years of collective experience.  It is also aligned with Core Curriculum language, speaking, and writing comprehension goals.
Features of FreeSpeech:
Features more than 2,000 symbols from Symbolstix
It's possible to manipulate words, tenses, and structure as if you were manipulating building blocks
You can even use a Spanish interface, so you throw Spanish words at it and it creates perfect English sentences
The app lets teachers and learners model/recast/contrast various grammar rules pictorially, all the while speaking out correct English
The app is based on research and builds the English language by:

Expanding: Prompts users with questions to help expand their sentences
Scaffolding: Predicts words they are likely to use
Contrasting: Visually models tense and sentence modifiers
Errorless Modeling: Automatically predicts grammar to assemble a map of pictures into a grammatically correct English sentence
Recasting: Automatically inserts prepositions and articles as needed
To learn more about FreeSpeech, check it out on the App Store or visit the FreeSpeech website!