Individuals who are blind or visually impaired may often need assistance finding specific items around their home or office.  The PenFriend 2 is designed to make their lives easier as it is a voice labeling system that allows users to label anything and everything with discreet audio labels in their own voice.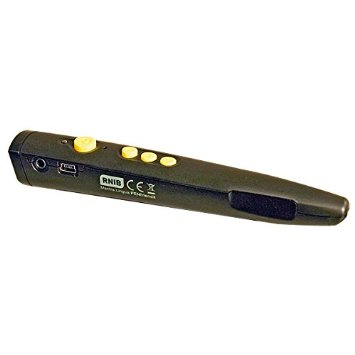 The PenFriend 2 is a slimmer design than the original model and features 4 yellow tactile operating buttons that contrast against the pen's black casing.  The tactile buttons are designed to make it easier for the blind or visually impaired to use.  Another new feature is an easy-to-use on/off recording function that prevents users from having to hold the record button while recording.
Features of the PenFriend 2 Voice Labeling System:
Allows users to:

Record their own voice onto self-adhesive labels
Mark household items with unique voice labels

Self-contained system: no computer required!
Includes:

4 GB internal memory
127 labels
3 magnetic badges (great for use on tin cans)
Neck lanyard
Sticker management
2 AAA batteries

Auto power-off after 3 minutes
How to use:
Simply place an adhesive label on desired item and press record
To playback, hold the PenFriend 2 over the label.  It will announce each recording specific to that label.
For more information about the PenFriend 2, check it out on MaxiAids and Amazon.