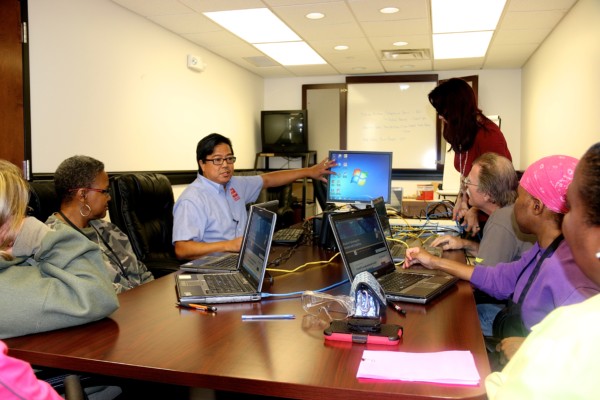 The INDATA Project operates an Equipment Reutilization and Computer Reutilization (ReUse) program where assistive technology equipment is received from donors and given to individuals in the state of Indiana who have a disability. This program takes donations of used CCTV's, video magnifiers, and computers. The equipment is then sanitized, repaired, and then given to to qualified recipients. Donated computers that are received from donors are wiped of all previous data, refurbished, and provided at no charge.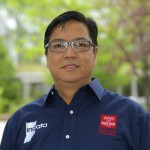 INDATA's ReUse Coordinator, Alvin Alviar, supervises the ReUse program, also known as The Depot. Alvin was a volunteer with the Assistive Technology Center before becoming an employee. His background was in Information Technology. He received his Bachelors of Science in Computer Science at the University of Philippines. Alvin is passionate about getting donated computers into the hands of people with disabilities that could not otherwise afford one.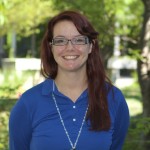 Alvin is assisted by, Tracy Castillo, the ReUse Technician. Tracy worked in a school district before joining Crossroads. She is responsible for getting donated computers in working condition. Tracy told me she "thrives on helping people in need". She enjoys working in a field where she can work with technology and help people.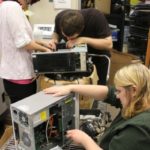 The Depot is also fortunate to have volunteers who help get all of the computers and equipment in working order. The volunteers assist in cleaning up the donated computers. They perform duties such as wiping the hard drives clean of the previous data. They then make sure the computers are up to usable standards. The volunteers provide technical support and troubleshooting. The volunteers also play an important role in teaching other volunteers that don't have experience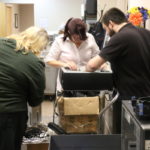 working with computers. This is a great opportunity for those who aren't as proficient to learn computer skills and an opportunity for the volunteers to teach and share their knowledge. In talking with Alvin about the volunteers, he said, "The volunteers play a very important role in the sustainability of the program."
When Alvin informed me that they were taking a handful of computers to a group of individuals who had applied for computers, I asked if I could join them to see the process of getting computers to individuals. He told me that several people at Crossroads Industrial Services had applied for computers so he was going to take all of them at the same time and show the features of the computers in a group setting. Crossroads Industrial Services (CIS) is a division of Easter Seals Crossroads that provides manufacturing, assembly, metal fabrication, and supply chain services to customers. The focus of this warehouse is to provide production services to clients lowering the customer's productions costs while employing people with disabilities.
Before dropping off the computers I asked Alvin how computers are received and handled once received. He told me, "Donated computers can be dropped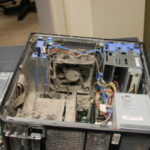 off at Easter Seals Crossroads at the front desk any time between the hours of 8am to 4pm. There are some instances when transportation can be arranged to pick up the donations. Once the computer(s) is received all the previous data is securely wiped from that computer. The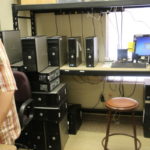 computers are cleaned and brought up to desirable specs. Once they are operational, Microsoft Windows operating system is installed, as well as MS Office Suite, anti-malware software, and other useful utilities and applications, and if needed, screen readers like Window Eyes (which comes free with the version of MS Office we provide) or NVDA."
Alvin then described the typical process of how to obtain a computer. He said, "If someone wants to apply for a computer or other reutilized equipment, they would first contact me, Alvin Alviar, at aalviar@eastersealscrossroads.org or call 317-466-2013 to request an application. The application is also available for download on our website. The application would need to be completed and returned with documentation of a disability. Examples of documentation would be a letter from social security or a doctor. Once the application is processed and approved, the applicant would be notified that they have been approved and where they are on the waiting list. Once their name comes up on the list, someone will call them to schedule a pick up at one of our distribution sites."
Alvin and Tracy loaded up the van with five computers to be taken to CIS and drove them over to the factory where the recipients gathered in the conference room waiting to receive their new laptops. It had been determined since there were so many people in the same location receiving a computer that they could deliver the computers and provide a brief overview of the computer features onsite. It was very exciting to see the joy of everyone in the room that would be receiving these computers. They talked about how the new computer would give them more independence. Alvin and Tracy were animated with smiles and as they appeared to enjoy the entire process of giving the computers to everyone in the conference room. Their skills and compassion really shined as they were showing the users how to access the computer and teaching them some of the basic features. Alvin and Tracy showed them how to access the Internet, the accessibility features that are built in to the computer, and also discussed Internet safety.
Here are some video highlights of my visit when we took the donated computers to CIS:
Alvin and I discussed what is typically shown when someone receives a computer and he told me, "Recipients of computers come from different backgrounds and levels of computer literacy, so the Depot provides tailored, brief instructions to each individual that ranges from the basics of mouse and keyboard use up to surfing the Internet so they can at least get to the tutorial links that will help them further use a computer. We give a brief demonstration of the Ease of Access features built into Windows OS. Recipients are also shown web links to free tutorials on the web that includes online classes on computer basics, Internet safety, and even college courses. There are links to useful resources on the web such as free ebooks, public libraries, jobs and healthcare sites and we provide these to the people who receive our computers.
It was such a pleasure to tag along with Alvin and Tracy and see how happy they were to bring these computers to people who needed them and to see how much joy they brought to the people that received the computers. Many looked forward to using the computer to access health information, connect with loved ones, and have increased independence by being able to do things from their home such as online banking.
Click here for if you would like additional information about The Depot or would like to download an application for a computer.
If you are interested in volunteer opportunities with the INDATA Project at Easter Seals Crossroads, please contact Tessa Barnard at tbernard@eastersealscrossroads.org or via phone at 317.466.100 Ext. 2414.