For individuals who are blind or colorblind, different tasks such as matching clothes, determining the ripeness of fruits and veggies, etc. have proven to be rather difficult.  Colorino Color Identifier-Light Detector is a pocket-sized 2-in-1 unit that not only identifies colors but also detects the presence of light.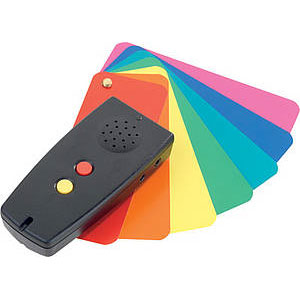 The Colorino can discern and clearly announce up to 150 shades of colors.  For example, it will not just identify an item as being blue.  Rather, it'll be more specific stating the nearest shade of blue: pale blue, navy blue, intense blue, etc.  The device also detects the presence of light and "indicates intensity and proximity by audio signal."
How to Use Colorino:
Hold the device against the item and touch (red) button 1 to hear exact color shade.
Hold unit in air and press (yellow) button 2 for light detection

High-pitch tone = source of light is intense or very near (bright light)
Low-pitch tone = source of light is weak or far away (dim light)
Features of Colorino Color Identifier – Light Detector:
Identifies and clearly announces up to 150 shades of color
Volume control
Equipped with earphone jack for privacy (earphones not included)
Unit measures 4-3/8″x2″
Uses 2 AAA batteries (included)
Zippered carrying case
1-year manufacturer's warranty
Click here to view the Owner's Manual or check the device out on the MaxiAids site.