Have you ever been told (or told your child) to stop fidgeting or wiggling in a chair and sit still?  With the Vidget System, children don't have to!  As I've stated in posts before, "Being able to fidget in a classroom improves focus, inspires creativity, and promotes calmness."  The Vidget further inspires children to move naturally and celebrates imaginative play while learning.
The Vidget is a chair designed to let children quietly squirm while sitting.  While sitting in it, they can rock side-to-side or front-to-back to calm down and focus.  Each Vidget is a 3-in-1 and can be flipped over and transformed into a desk, stool, or play surface!  "The modular and versatile design of the patented pending Vidget System provides many opportunities for teachers and parents to work together with children to build their own environments based on individual and group needs."  The Vidgets are easy to move and stackable making them an ideal seating solution!
According to the website, there are many occupational and physical therapy benefits:
Facilitates core muscle development
Inspires physical movement of body
Reduces tension and frustration
Reduces stigmatizing, all children can benefit
Improved focus and attention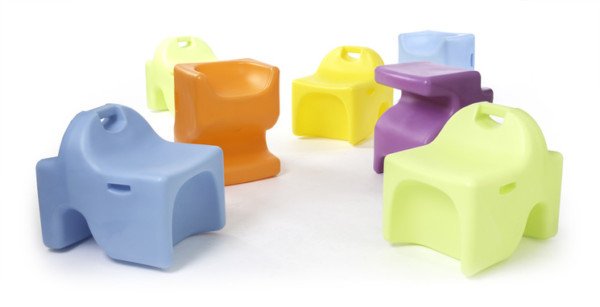 Features of the Vidget System:
Celebrates fidgeting
Encourages imaginative play
Modular and versatile

Chair, desk, stool, play space all-in-one!

Easy to move, stackable
Provides sensory input
Available in an assortment of bright, playful colors:

Bubbly Blue
Lively Lime
Playful Purple
Optimistic Orange
Basic Black
Granite Gray
Rugged Royal
Natural Navy

Available in several different sizes, suitable for individuals 18 months and older!  Check out the following chart from the Vidget website to find the one perfect for you or your child!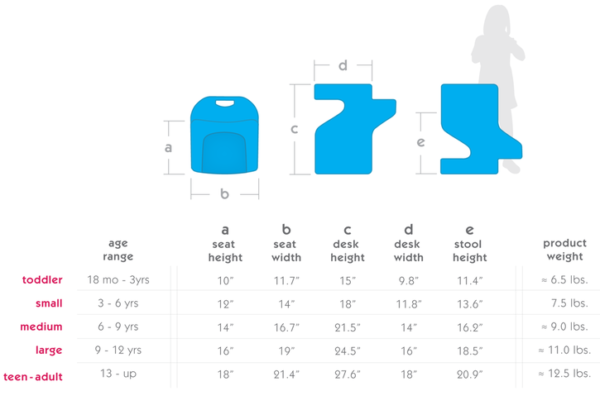 To learn more about the Vidget System, click here!