For individuals with mobility impairments, a ramp may become a necessity for getting in and out of one's home.  Amramp is a company offering many products to make homes more accessible, including Amramp, which is "North America's Leading Wheelchair Ramp."  It is a modular ramp providing a variety of benefits other ramps don't.
One of the many benefits that set Amramp apart from others is that they can be rented!  According to the FAQ page, "About 45% of wheelchair ramps should be rented when they are not needed permanently.  Wheelchair ramp rentals are convenient for short term disabilities, recovery from surgery or special events such as weddings, graduations, or family gatherings, with no minimum time or amount of ramp required."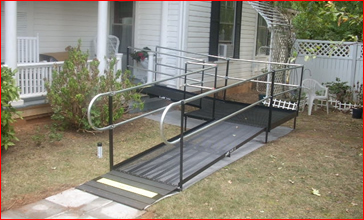 If you need a ramp for six months or less, renting the wheelchair ramp is most ideal.  There is no minimum rental period, so you can rent one even for just one day!  For more information on renting an Amramp, click here.
Features of Amramp:
Wheelchair Ramp
Amramp features a unique open mesh ramp surface which allows moisture to pass through

This reduces possibility of "dangerous ice film or mold forming on the surface.  Wood, concrete, and aluminum are solid surfaces that collect moisture."

Most slip-resistant modular ramp available

The surface features a raised gripping pattern to make Amramp the most slip resistant ramp available, plus "Amramp adds a special Amramp-grip coating to the ramp surface."

The coating contains a dispersed particle comparable to sandpaper.

Fireproof

The ramp is constructed out of durable steel (the same steel used in fire escapes)

No permits required

"Amramp's patented bolt together system usually doesn't require a building permit, excavation or digging up your property–which means we can install your ramp in almost any type of weather.  Permanent ramps like wood or concrete are permanent modifications to the home and require a building permit plus concrete footings.  The permit process includes tax reevaluation of your home."

Made in America from 100% recyclable and recycled steel.
To learn more about Amramp's Wheelchair Ramp, click here!