Each and every individual who uses a wheelchair has his or her own unique needs, likes, dislikes, etc.  When purchasing a wheelchair, it's at least a 5 year commitment, so it's often hard to find the wheelchair that "fits just right."  The developers behind the WHILL mobility device acknowledge this, and have created a unique wheelchair that offers many features not found in other wheelchairs.  The biggest selling point for this mobility device is that it helps its users to blend in more with their peers.
A lot of today's wheelchairs are still unnecessarily bulky, heavy, and awkward.  The WHILL offers something completely different, while maintaining (even improving) one's independence.  To quickly sum up the WHILL, its design is specifically "designed to fit your lifestyle."  Its sleek design and revolutionary technology "provide mobility in a versatile, stylish, and unobtrusive way."
The production of WHILL began with one user's voice, as presented on the company's brochure:
 "Our journey started with this simple statement from a wheelchair users.  He did not want to be seen in public as a wheelchair user.  He disliked the negative perceptions associated with wheelchairs, that he must be ill or weak.

To solve this, we started to create an original mobility device just for him.  We exhibited our first prototype at the Tokyo Motor Show, where we were overwhelmed by positive reaction we received from all over the world.

We realized that many people desired this kind of innovation in the mobility industry.  We saw how meaningful what we were creating could be for people with mobility issues.

Nobody should be confined because they don't feel comfortable with how they move from point A to B.  We want every individual to be confident, comfortable, and independent.

This is why we founded WHILL."
The final product, WHILL Model M, "doesn't hold you back, it powers you forward."  More recently, WHILL Model M comes with FDA clearance!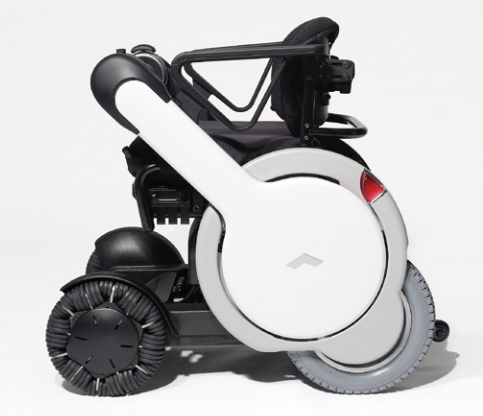 Features of WHILL Model M:
4-Wheel Drive:

Live your life without disruption and go wherever you want to go.
The front wheels and rear-wheels move together to provide maximum traction on all terrain.

Obstacle Clearance:

The front wheels measure 9.8″ and will be able to conquer any terrain obstacles you may encounter.

Long-Distance Range:

Worry-free extended range of up to 15.12 miles to accomplish all your daily tasks.

All Directional Wheels:

Built with 24 small rollers that collectively create one large wheel.
"Drive the highest performance powered wheelchair in the industry.

Climbing Capability:

Climb steep hills up to 10º incline and take on any environment.

Additional Support:

Model M comes with multiple back support options and many more additions to fit your unique needs.
To learn more, check out the WHILL Model M Brochure or visit the WHILL website.