A common struggle among individuals with special needs is the inability to tie one's shoes.  This holds true for individuals with cognitive impairments as well as those with physical limitations.  I've written before about self-tying shoes from Nike, but what if you wanted the ability to fasten any pair of shoes?  With Zubits magnetic shoe closures, you can do just that!
"Zubits magnetic shoe closures make putting any shoes on and taking them off insanely easy.  No tying, no knots, no laces coming undone."  Simply place the magnets onto your own shoelaces.  Whenever they're separated, you can easily slide your foot into the open shoe.  View the full installation instruction video here. To secure the shoe, simply click the magnets together and you're all set for the day!
Okay, so you may be wondering if these magnets can really withstand all of your daily activity.  The magnetic technologies used in the closures are carefully designed to stay secure during any athletic activity, "yet remain easy enough to take off with a forceful step on the heel."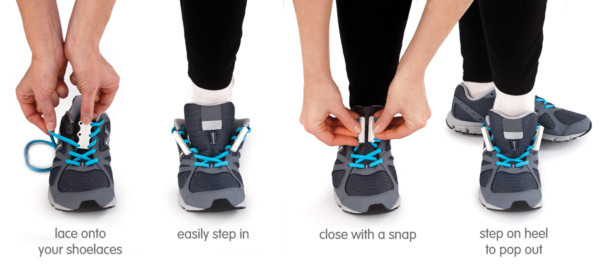 Quick Zubits Facts:
Available in multiple sizes and colors.
"Zubits 'magnetic array' technology makes the strongest Neodymium magnets even stronger."

The magnets will never lose strength!

Shoelace securing clips included.
Sealed magnets are waterproof and will not corrode.
Self-align when closed.
The magnetic technology does not attract metal from the outside.
16 pounds holding force
Check out the Zubits website to learn more about the magnetic shoe closures!