I have written about countless products from Fun and Function over the past several months.  The company provides so many unique and often affordable solutions for individuals with autism, sensory processing disorder, learning disabilities, and so much more!  The Raindrop Swing is yet another unique solution that could be used for home, sensory rooms, or clinical settings!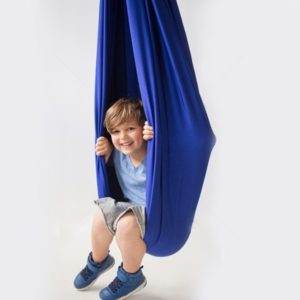 The Raindrop Swing can be used for "heavy work or just hanging out!"  It is a multifunctional swing providing the sensory input several children seek to calm down and focus.  It also encourages lots of exercise.  "The effort required to get in, out, and move about makes this swing so great for learning coordination, motor planning, balancing, and spatial awareness," reviewed Ilana Danneman.  Danneman is a physical therapist and product developer at Fun and Function.  Click here to view other articles written by her.
Features of the Raindrop Swing:
Made of heavy-duty, stretchy spandex.
Holds up to 150 pounds.
Weighs 4 pounds.
Surface wash and air dry only.
For use with adult supervision.
Provides sensory pressure all over and creates a fun, private space to bounce, swing, spin, or just lie motionless while enjoying the calming movements.
Swing can be used while sitting, standing, or lying down.
Can help children with low muscle tone, autism, SPD, hyperactivity, and more.
Swing comes with one rotational device and one carabiner for circular spinning.
Raindrop Swing should be professionally installed.