Last week, Director Brian Norton came into my office and said ecstatically, "Come check out this cool new product we just got!"  He was holding a spiral notebook and pen…so my enthusiasm was, well, minimum.  A group of us followed him into the kitchen where he then demonstrated how this was no ordinary notebook!  In fact, he was holding the Rocketbook Wave.
Brian went on to write down some notes in the seemingly normal notebook, grabbed a mug filled halfway with water, and placed the notebook and the mug in the microwave.  After a minute, the notes were COMPLETELY gone!  Magic!
The Rocketbook's website describes the Rocketbook Wave System as a combination of a "special notebook and a free mobile app."  With this notebook, you'll be able to write and create designs with a pen, and then capture the page's content easily within the app.
Why am I writing about this magical product?  Well, if you're like me and love handwriting notes the old-fashioned way and want to save paper, this is a great solution as you can use and reuse the pages up to 5 times!
In terms of assistive technology, the Rocketbook pairs with an app available for both Apple and Android devices.  Further, each page of the Rocketbook Wave is "intelligent."  At the bottom of each page, there is a unique QR code which tells the Rocketbook App the page number of each scan.  This way, whenever you scan your Wave notebook, the app will always organize your notes in the right order!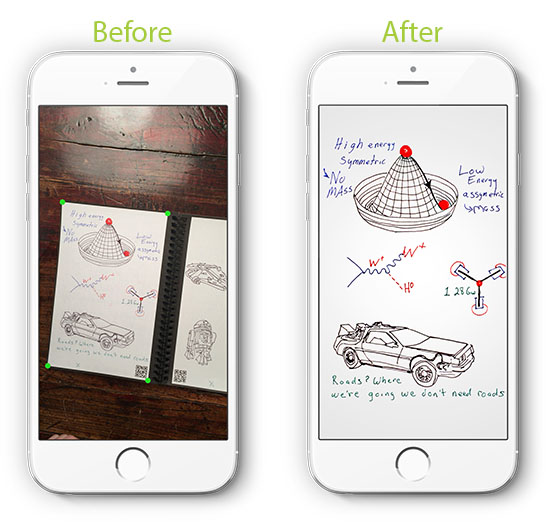 Each page also has a narrow, dark border which allows the Rocketbook App to find and scan your page quickly in any environment or background.  There are also seven symbols at the bottom of each page, which allow you to assign each icon to the destination of your choice.  Whenever you mark the icon on your page, the Rocketbook app will automatically upload your files to any folder in Dropbox, Evernote, Google Docs, OneNote, or your email address!
Click here to learn more about the Rocketbook Wave.