Early learners, especially those with special needs, may seldom sit and listen to a story nowadays.  Their young minds yearn to learn and interact with their surroundings.  Storybook apps have taken storytelling to a whole new level with colorful graphics and fun interactive activities.  "A Parcel of Courage" is one such app that tells a heartwarming story while engaging readers with fun activities.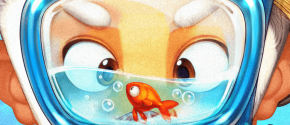 "A Parcel of Courage" tells the true story of how a family of three brothers came together to help their grandmother overcome her fear of flying so she could visit them.  Children will have fun reading the heartwarming story, while playing along with the different activities.  The interactive tasks within the storybook help them better comprehend the content.  They also encourage and teach:
Spatial awareness
Eye-hand coordination
Working memory
Problem-solving skills
Listening skills
Sequencing
and more!
In addition to the interactive storybook, the app also includes a Play Mode with 4 unique educational games that let children:
Learn numbers and addition within 10
Become familiar with patterns and sequences
Recognize 25 new colors
Understand 2 or more objects in relation to each other and more
Features of A Parcel of Courage:
15 beautifully illustrated interactive pages in the "I Listen" or "I Read" modes.
7 activities available within the story to unlock something that will "help you make your wishes come true!"
Examples of challenges children will face within the story include:

Explore maps and beginning spatial orientation skills
Sequence baking courage chocolate cookies
Constructing a marble run using working memory of a briefly presented model
Learning how to address and send a postcard to grandma
Visually scan to help grandpa clean up the backyard
Spatially orient items to pack a suitcase
Use listening skills to help the postman

"Beautifully rendered graphics and original soundtrack."
Personalization and options for saving the game results for all family members
No banners, advertisements, or in-app purchases (once you buy full version)
Click here to learn more about A Parcel of Courage.
To read the review by TouchAutism, click here!