When someone says the terms "board games" you may automatically think of Monopoly, Sorry!, Scrabble, The Game of Life, and dozens more.  Me, Myself, and You (also called MMY) is a new board game designed by three Stanford University students who "care about human connection."  More specifically, it is a "multiplayer board game designed to facilitate social connections between young adults with autism."
Me, Myself, and You (MMY) was developed when the three project design students wanted to study the needs of adults with autism.  "We noticed this population had very few tools available upon leaving the structure of the schooling system."  They go on to note how approximately 50,000 of these individuals transition to adulthood without access to the same resources available to them as students.  Therefore, MMY was developed with a goal to help reach this population and fill the gap.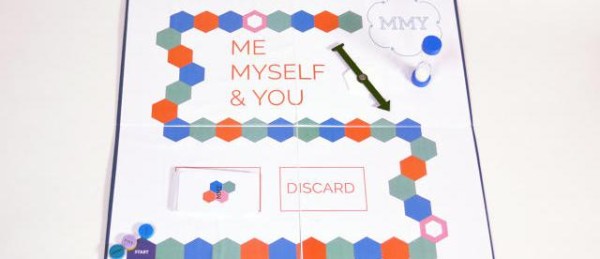 How It's Played:
The game was originally designed for adults with autism due to the lack of products for this demographic.  "The game premise and aesthetics are tailored to these young adults' needs for peer to peer connection and sensory sensitivities.  That being said, the game is appropriate for all individuals 12+ and has also been thoroughly enjoyed by all of our early adopting players – both neurotypical and autistic!"
Game Parts:
1 board
1 spinner
1 sand timer
16 skip cards
8 player pieces
52 cards
Set Up:
Place the board on level surface
Shuffle the cards and place them face down in the DRAW space on the board
Give each player 2 SKIP cards
Pick a player piece
Rules:
Each player should…

Tell the other players if they go over the time limit on questions
Ask the group for help to answer questions that you have trouble with
Respect personal boundaries
The game features five different cards:
Solo: Set the timer and answer the card by yourself before the time runs out.
Partner: Spin to find your partner, complete the card with this partner to move ahead
Team: All players have to complete this card with you for you to move ahead
Challenge: This card is also for all players to complete together for you to move ahead
Skip: Use this to skip a question you don't want to answer.  Can only be used once!