Believe it or not, handwriting is not yet obsolete (and hopefully never will be!)  If you're like me, you still like to handwrite notes, lists, everything!  However, if you're looking for a more ergonomic writing utensil to help you keep writing, check out the Dr. Grip Center of Gravity Pen by Pilot.
Dr. Grip was first introduced more than 20 years ago as the "first truly ergonomic writing instrument."  There are several types of pens and pencils available in the Dr. Grip line, but their Center of Gravity Pen is perhaps one of the most ergonomic choices.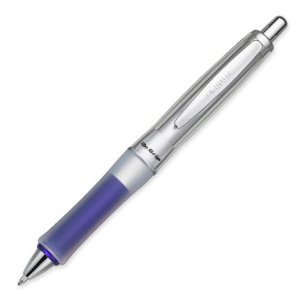 The Center of Gravity Pen is noted to be "your prescription for writing comfort."  It has also been proven in a study by Georgia Tech to be "2x more comfortable than traditional Ballpoint pens."  All writing utensils in the Dr. Grip line are also the only ones commended by the Arthritis Foundation for Ease-of-Use.
Features of Dr. Grip Center of Gravity Pen:
Unique, balanced design:

Perfect weight distribution for comfortable, balanced writing

Wide double-layer comfort grip and balanced gripping axis reduce writing stress
Ultra-smooth writing performance
Premium metal clip
Retractable and refillable
Available in blue and black ink
Different grip colors available:

Charcoal
Pink
Orange
Navy blue

Has received an Ease-of-Use Commendation from the Arthritis Foundation
Easier to use for individuals with carpal tunnel syndrome, arthritis, and other hand issues
Click here to learn more about the Center of Gravity Pen as well as other utensils in the Dr. Grip line.