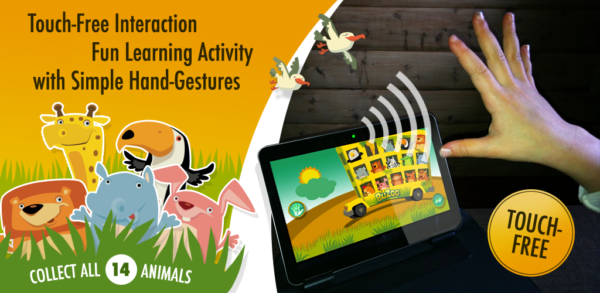 "Cool!" said Emmanuel, an 11-year-old with autism.
Emmanuel had recently finished playing the touch-free, interactive and fun learning app dubbed A BuZoo Story.
A BuZoo Story is a touch-free mobile app designed to give children living with complex communication impairment related to autism and other developmental disorders an engaging, fun and interactive learning experience.
Shailah Interactive designed the app to ensure inclusive and fun educational content is available for everyone. Download A BuZoo Story from Google Play.
The user starts, plays and navigates the app with simple hand gestures aimed at aiding the development of the individual's motor skills. The app can interpret and complete interactions with a shaky or unstable hand. Learn more about how the hand gestures work here.
The touch screen option is enabled to ensure smooth intercommunications. The user helps each animal board the bus with a wave of the hand and learns to recognize each animal individually. A BuZoo Story teaches children how to spell the names of animals while simultaneously providing a backstory for each animal to help the user with identification.
Shailah Interactive's touch-free mobile apps and games are giving children and young adults an increased sense of freedom to explore, connect, learn and socialize. A BuZoo Story can help a child contribute and participate in social settings.
"It is an exciting product that will make a huge difference in many young lives." – Sarah Mitchell, Trade Commissioner, Department of Foreign Affairs and International Trade, Canada
"Love it. My daughter has autism, and this app was recommended to us to try, and she loves it!" – Tay Banks, (Via Google Play)
The specific educational value of A BuZoo Story includes: animal recognition, spelling, facts and information, physical activity and inclusive touch-free interaction. The mobile technology revolution has changed the way children learn. Get ahead of the trend!
"New mobile touchless technology has great promise. We believe it can offer tremendous benefit … to improve communication and learning in children with complex communication impairment related to autism and other developmental disorders." – Prof Howard Shane, Center for Communication Enhancement, Boston Children's Hospital, Harvard Medical School