There are few things I despise more than cold, wintry weather; between getting stuck in the snow and my legs turning purple from extreme temperatures, the idea of winter is anything but fun to me.  Since I'm unable to hibernate until spring (sigh), I've looked for products to make my going out in winter a little more doable.  Granny Jo Products aims to provide such products to improve one's overall quality of life.  One of these products includes their Wheelchair Blankets.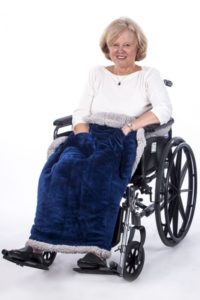 Once upon a time, I used to worry about how "silly" I'd look with a blanket on my lap.  Nowadays, the only thing I care about is keeping my legs warm!  I often use a throw blanket, but I encounter two problems with it:
It slides off my lap after awhile so I have to keep tugging on it; and
It's too long!  If it's not folded and tucked just right, it'll end up near or under my wheelchair tires!
The Wheelchair Blanket from Granny Jo Products is perhaps exactly what I've been looking for!  The blanket's special design allows individuals in wheelchairs to remain active, independent, and comfortable.
Wheelchair Blanket Features:
Roomy front pouch pocket that allows wearers to keep hands warm.
Includes two hook and loop straps on each side to secure the blanket to the wheelchair.
Measures 36″ by 42″.
Available in lightweight and heavyweight versions:

Lightweight: plush blue/gray fleece, $20.
Heavyweight: light gray Sherpa fleece interior and navy mink fleece on outside, $35.

Heavyweight is also available in Wild Side pattern (cheetah print).
Click here to learn more about the Wheelchair Blankets or to browse other Granny Jo Products.
Be sure to also check out my Accessibility Minute podcast on the company's Dignity Mugs.