In November 2014, our very own Nikol Prieto wrote about 10 accessible gift ideas for those with vision impairments.  The article has since become one of our most popular blogs of all time!  Because that article did so well, I wanted to provide you with even more options for your loved ones with visual impairments.  This article features unique items from the Braille Bookstore, which offers thousands of products at affordable prices.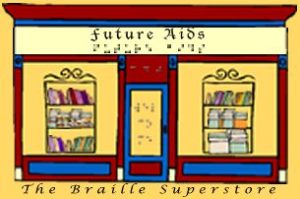 8 Accessible Gift Ideas for Visually Impaired:
First up is a gift everyone can use!  I personally prefer good ol' paper and pen when writing down appointments and events.  This full-sized 2017 desk calendar presents all important dates in braille and much more.
Features:
Durable spiral-bound book with vinyl plastic covers
Important dates listed at the bottom of each page
All writing is raised braille, making it wholly accessible to those who are blind
Bonus month of next January included
What good is a paper calendar if you don't have a pen?  The Talking Memo Pen is a handy resource for individuals with low vision.  In sum, it speaks the time, records memos, and even – you got it – writes like a pen!
Features:
Allows users to record 20-second memos
Can announce time every hour
One daily alarm
Practical, slim 3-in-1 pen
Heavyweight
Oval digital LCD screen on side of pen
Twist base of pen clockwise to write; twist it counterclockwise to hide tip of pen
Runs on 2 button-cell batteries (included)
This is a fun and simple gift idea for anyone!  The Braille Keychains sport both braille and printed text, and are also etched with an image (e.g. LOVE has heart in center).
Features: 
Made of durable metal and attached to a sturdy keyring
6 messages to choose from:

Love (heart)
Live (butterfly)
Peace (dove)
Hope (star and moon)
Faith (cross)
Jesus (little fish)

Available for $4.95 each or if you buy 5 keychains, you can get the 6th one free!
Printed word on one side and the braille is embossed in "quality, sharp Braille dots" on the other side
Instead of going to the store to buy your loved one chocolate, why not make your own?!  The Braille Chocolate Mold produces chocolate bars in both print and braille.
Features:
Each mold produces 2 chocolate bars
Measures 5″ x 4″
Bars can be prepared in minutes and are ready in under an hour
Available in 3 different molds:

Happy Birthday and Love You
Have a Nice Day and Thank You
Merry Christmas and Happy Holidays

Available for $4.95 or $12.95 for all three
You can never have too many t-shirts, right?!  The Braille Bookstore offers 11 unique tactile t-shirts to choose from.  Each shirt features raised print and braille.
Features:
All feature raised print and braille
Machine washable with double-stitched hems
High-quality, 100% cotton shirts
Available in the following designs:

Alphabet (entire braille alphabet in dark-blue with corresponding green print letters above each braille letter; braille-only message on back says BRAILLE IS BRILLIANT) 
Best Friend (image of yellow lab dog guide wearing harness)
Ready to Roll (car)
Rock On (rock band with written Rock On! text)
Always Late (man in suit looking frazzled; text on front says ALWAYS LATE…back says: BUT WORTH THE WAIT)
Just for Kicks (soccer player)
Explore Your World (image of double-decker aircraft soaring through sky)
USA (eagle on front; back features American flag and text stating HOME OF THE BRAVE)
Canada (text Canadian, eh? on front; back features Canadian flag)
This is a unique tactile watch designed to be universally accessible to all.  It's a great timepiece for individuals who want to tell the time quietly and independently.  It utilizes centuries-old technology to keep the time, and requires no batteries.
Features:
Unisex design can be worn by men and women
Quality Japanese Movement keeps hands in place while being felt
Sturdy steel hands always point at the correct time
Tactile markings make it easy to tell time by touch
Stretchy metal band is easy and comfortable to wear; silver band and outline, white watch face
One of my all-time favorite games to play is Scrabble.  If I have a choice of a game to play, it's always Scrabble or some other word game.  Now the world-famous crossword game has been adapted with braille, making it accessible to those with little to no sight!
Features:
Designed for all ages, both blind and sighted players
Features raised print and braille on the board and letter tiles
Rotating 15″ board
Includes 4 letter racks, a thick score pad, and print and audio-tape rules
If you want to give your loved one(s) a greeting card, the Braille Bookstore offers an assortment with braille and printed text.
Features:
Each card boasts a full-color image on the front with a pre-written message on the inside.
You have the option to write personal message in braille when ordering.
Cards available for many categories:

Birthdays
Friendship
Thinking of you
Thank you
Encouragement
Congratulations
Retirement
Get Well
Marriage
And much, much more!
The Braille Bookstore features so many products for individuals with and without visual impairments, so if you'd like to see what else they offer, click here to view their website!