Walk in to any store, turn on any television or listen to the radio and you know that the gift -giving season is upon us. It can be stressful to come up with ideas and you may be asking yourself do they really need another scarf or candle? Sometimes there is no better gift than something that makes someone's life a little easier.If you have someone on your list that is blind or has a visually impairment, we have our top 10 great suggestions that might inspire you to think out of the box and make everyday tasks a little easier.
 10 Accessible Gift Ideas for Blind or Visually Impaired
#1 Tel-Time Talking Watch Keychain
The majority of us are not lucky enough to throw away the clock and live on our own schedule. Whether you check the wall clock, clock on your wrist on the clock on your cell phone, it is a pretty consistent activity for most of us throughout the day. You need to check the time to know when to be on time for your next meeting, when to pick up the kids and when your favorite television is on. Someone who is blind or visually impaired doesn't have the luxury of looking up at all the wall clocks, but most likely still needs to stick to a schedule. For that we suggest the:
Tel-Time Talking Watch Keychain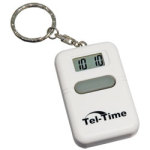 This is a key chain with a time announced clock.
-has both LCD and audio time report
-has alarm and hourly time announcement
-power saving mode to preserve battery
Price: $9.95
#2 iPad or iPhone
If you are feeling really generous an iPad or iPhone is probably a dream gift for your loved one who has a visual impairment. With all of the accessibility features on these devices this could be one of the most empowering devices on the market today for someone who is blind or visually impaired.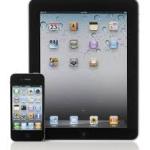 iPad/iPhone
Accessiblity Features:
–VoiceOver-and advanced screen reader that will read the screen for you. You can touch the screen to hear what is on the screen and use gestures to control your device.
–Siri-apples intelligent assistant that will help do every day tasks on the phone or iPad. Siri can turn on or off VoiceOver, send messages, place phone calls and schedule meetings
–Dictation– allows you to talk where you would type. It assists you in typing messages, launching apps, reading calendar and browsing the internet.
–Speak Screen– can use to read your e-mail, imessages, web pages and books to you. You can even change the voices dialect, speaking rate and have the words highlighted as they are read.
–Zoom– built-in magnifier that works in all the iOS applications such as mail and safari internet browser. If will also work on apps that are purchased from the App Store.
–Font Adjustments-increase font size
–Invert Colors and Grayscale-can change to inverted color or grayscale if the higher contrast or lack of color helps you see better.
*many Bluetooth wireless braille displays are compatible with iPhone and iPad. Click here for more information about compatible braille displays. https://www.apple.com/accessibility/ios/braille-display.html
Price-varies
#3Talking Blood Pressure Monitor
If your love one's health requires them to have their blood pressure monitored, what better gift then granting them the convenience of doing it in their home or on the go with a:
Talking Blood Pressure Monitor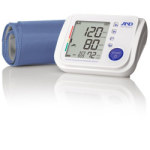 This talking blood pressure monitor reads out loud the pulse and blood pressure readings.
-fast and precise pulse and blood pressure readings
-readings can be viewed on oversized display or via audio function in English, French or Spanish
-90 reading memory recall to track reading
-Auto-inflate cuff
Price: $97.95
 #4 Talking First Aid Kit
Every home should have a first aid kit for common accidents that can happen at home or on an outing. A practical and useful gift with a twist is the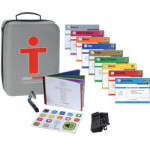 This talking first aid kit has audio guides to tell you how to take care of different types of injuries and the accessories needed to treat those injuries.
-9 talking care packs organize by type of injury- (each pack has printed instructions plus audio guidance)
-each pack has the related accessories to help treat injuries such as gauzes, bandages, gloves, ice packs, ointments, eye wash
-5 year + average battery life
Price: $145.95
#5 Talking Digital Luggage Scale
For many people those they love live far away and they must travel to get to them to celebrate the holidays. Airline have really restricted luggage weights. If your loved one travels often or has holiday travels planned, maybe a talking luggage scale would be the ideal gift.
This scale announces the weight of the bag when attached to the luggage handle and lifted.            
-english speaking voice that announces the weight of the bag
-two handed design for easy handling
-weighs up to 88 pounds
-handles fold up for easy transport
Price: $29.95
#6 Lifetime Voice Calendar Talking Organizer-Braille
This time of year can get really busy and you can help your loved one keep track of all of those holiday parties with the:
Lifetime Voice Calendar Talking Organizer-Braille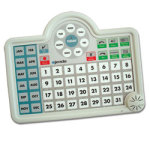 This is a talking calendar that has tactile braille markings on all of the function keys.
-record important dates and appointments in your own voice
-quick repeat button to play back messages
-stores up to 900 messages
Price: $69.95
 #7 Talking Dart Board
Holiday gatherings are a great time to play games. If your loved one likes to play games, maybe a Talking Dart Board should be under their Christmas tree. This dart board has magnet-tipped safety darts and announces the all the scores verbally.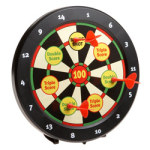 -magnet-tipped safety darts
-all scores are voice announced
-tallies score and announced
#8 Large Print Crosswords
Price: $45.00
#8 Large Print Crosswords- (No longer available on MaxiAids)
If your loved one is more interested in individual games, maybe Large Print Crosswords should be under the Christmas tree.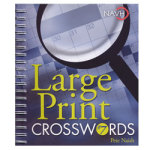 -Large word type
-Generously sized grid, easily seen numbers
-125 puzzles in the 288 page book
-seal approved by NAVH
Price: $12.95
 #9 Pocket Large Print Address Book
Whether it's sending Christmas cards or calling loved ones to keep in touch a Pocket Large Print Address Book will make finding those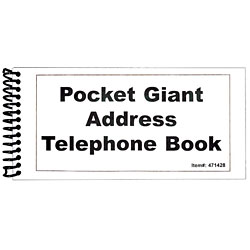 contacts easier for someone with low vision.
-large print address book in a spiral notebook
-49 sheets of white paper with bold black lines
-large print and large writing spaces
Price: $4.75
#10 Ruby XL HD 
Whether reading menus when out for a holiday meal or seeing the fine print on Christmas cards your loved one may love a handheld video magnifier like the Ruby XL HD  to magnify print.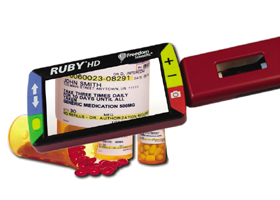 -2x-14x magnification
-5-inch LCD widescreen
-fast reading with no blur
-built in reading stand
-saves images and can transfer to a computer
-20 high contrast color options
Price: $895
We hope you have a wonderful holiday season and hope you find the perfect gift for your loved ones. The above are just some of our suggestions for gifts for those who are blind or visually impaired. For more great ideas for people with varied types of disabilities DON'T MISS our upcoming 2 part series on Holiday Gift Ideas. The first will air on black Friday. November 28, 2014. It will post to www.eastersealstech.com on that day and will be archived with all of our previous holiday gift giving and other weekly podcasts. Click here for a listing of all our weekly podcasts.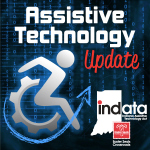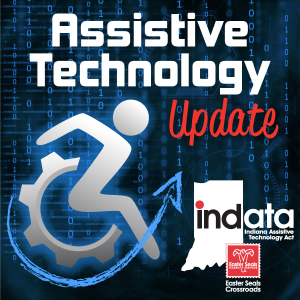 EDIT: Want more gift ideas?  Check out the following blog posts: