Many individuals who are deaf or hard of hearing often have to rely on lip reading or an interpreter to engage in conversations.  This is where Ava may prove useful.  Ava is an app noted to be the "first smart captioner for conversations based on machine intelligence."  In other words, it's an app that allows users to understand and participate in surrounding conversations.
How to begin using Ava:
Simply download the app from the App Store or Google Play.  The app is free to download and allows users to engage in 5 hours of conversation each month.  The second option is the Unlimited Plan, which is available for $29/month.  The Unlimited Plan has all the same benefits of the Basic Plan, but allows users to host an unlimited amount of conversation.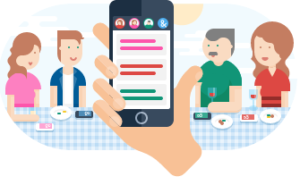 To get the most out of Ava, everyone in the conversation will need to download the app.  Once they've downloaded it and created an Ava ID, you'll be able to add them to the conversation.  Users should speak closely and clearly into their phone for best results.
Ava Overview:
Provides real time captions to empower individuals who are deaf or hard of hearing
Internet connection required (Wifi or data)

Uses about 10MB every hour of use

Currently available in United States, Canada, Australia, New Zealand, United Kingdom, Argentina, France, and Netherlands
Unlimited Plan available is free for first month; after that, users will be switched to the Basic plan (unless they registered for Unlimited)
Developed by a team of deaf and hearing individuals so they "built Ava the way they needed it"