Color blindness is a real condition affecting up to 300 million people worldwide.  It can create difficulties in daily life when discerning color is important (e.g. reading charts, etc.)  Fortunately, Google Chrome offers an extension called Color Enhancer to help these individuals better view the internet.
The Google Accessibility team developed Color Enhancer for those with partial color blindness.  It was designed to be a "customizable color filter that applies to all webpages in order to improve color perception."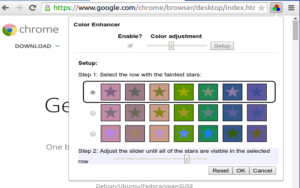 How to Get Started with Color Enhancer:
Once you've installed the extension from the Chrome Web Store, you should see an icon with three-colored balls on the address bar.
Click on that icon, checkmark Enable then select Setup.  
Next, you'll see three rows of colored stars.  Select the row with the faintest stars as you see them.
A slider will then appear under the stars; adjust this slider until all of the stars are visible.
Select Okay when you're done.
Note: You may need to continue to adjust the slider to fine tune to your needs.  Once you have it all set up, you'll be able to browse the internet and see things that may have gone previously unnoticed!
Check it out on the Chrome Web Store to learn more!