Diabetes affects approximately 415 million (1 in 11) individuals worldwide.  Glucose monitoring can often help manage symptoms for these individuals.  Checking glucose involves pricking one's finger multiple times daily, which can be painful and bothersome.  K'Track Glucose is a new wearable designed to measure glucose "effortlessly, painlessly, and in seconds."
The K'Track Glucose looks and wears just as a smartwatch.  It is a sleek wearable so you can wear it all day!  In addition to tracking glucose levels, it also tracks steps taken, distance traveled, and calories burned.
The K'Track Glucose device and the K'Track app (available on both iOS and Android devices) will make monitoring glucose levels even simpler!  The app will show a complete data history over time so the wearer can share results with relatives or professionals.  If enabled, the app can also push notifications to remind individuals to check their glucose.
The K'Track Glucose wearable does not record glucose levels automatically or continuously.  The user will need to press the K'Track on the skin before reading the result.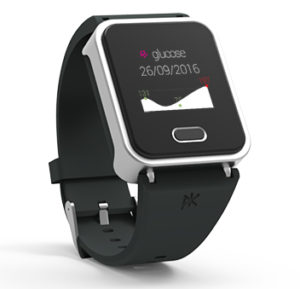 How it works:
K'apsul is the revolutionary biosensor that makes the painless monitoring possible.  When the K'apsul is in contact with the skin, it tests glucose levels without any blood sample.  It has the ability to painlessly take unlimited measurements within a 30 day period.
The K'Track Glucose is still being tested and is estimated to be available as early as 2018.  Click here to subscribe to the newsletter so you can stay up-to-date with the K'Track!