Sensory solutions are a huge topic here at the INDATA Project.  I love writing about them because they benefit an array of individuals with sensory processing disorder, ADHD, autism, anxiety, and more.  Fun and Function offers an indefinite supply of these solutions, one being their new Bubble Table.
In sum, the Bubble Table provides hands-on therapy to calm the senses.  Developers took the therapeutic benefits of bubble tubes and transformed them into a wide, flat surface that children can touch and use for sensory play.  Bubble tubes are often included in multi-sensory rooms due to their calming visual stimulation.  Further, they have been noted to "help visual development and perception, color recognition, and communication skills."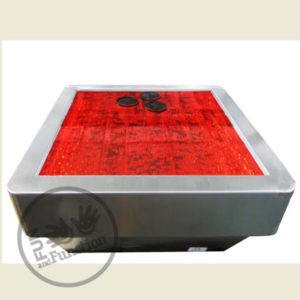 The Bubble Table offers these same benefits and more.  With the Bubble Table, Individuals will enjoy watching the bubbles move and change colors.  The Table also comes with a remote control which allows users to cycle through colors (red to blue to orange to pink to purple.)  The Table was designed for sensory rooms, clinics, or home use.
Overview of the Bubble Table:
Provides stimulation for under responders and calming sensory input for over responders.
Rounded corners for safety.
Weighs 55.1 lbs
Measures 24″L x 24″W x 8.3″H
Features stainless steel base, acrylic and glass pane table top, acrylic tubing, color-changing lights, remote control and transformer (20-40 watts).
Requires electrical outlet.
1-year warranty on electrical parts; 2-year warranty for other parts.
Wipes clean.
Use distilled water to avoid algae build-up.  Empty and clean the interior with a soft cloth every 3 months.
Multi-colors.