For many individuals who are hard of hearing, conversations in loud environments can be more challenging if not impossible.  While many hearing aids will increase the volume of near conversation, they'll also increase volume of ambient noise.  The Wear from ActiVocal will change this.
The Wear is a Revolutionary Assistive Listening Device or ALD.  More specifically, it is an assistive listening device designed for the individual who is experiencing hearing loss and wants to have conversations in noisy environments (e.g. restaurants, meetings, etc.)
It is the smallest high-quality amplifier measuring only 2″ in diameter by 1/4″ deep.  The Wear works by amplifying sound directly within the circular zone, about 5-6 feet in front of the user, while reducing noise outside of this zone.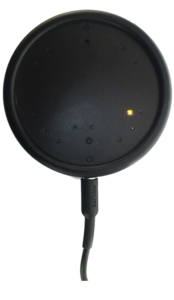 Features of the Wear:
Can be very effective when used with bone conduction headsets.
Device can be worn under shirt or jacket, but it is most effective uncovered:

If worn under item of clothing, user may hear fabric rubbing against the device.

There is no power switch.  It turns on whenever an earbud is plugged into the earphone jack.  It'll then automatically shut off when unplugged from headphones.
Comes with USB charger to charge internal battery;

Full charge provides about a full day of operation.

Wear uses an easy-to-use magnetic clip to fasten to clothing, but users can also use lanyard or neck chain.
Uses patent-pending analog technology instead of Bluetooth:

Bluetooth technology can cause a latency delay.