Those who are hard of hearing may often never hear their landline or cell phone ringing.  Fortunately there are products like the Serene Innovations RF-200 Phone Signaler/Flasher to help with that.  The RF-200 Signaler/Flasher is a desktop signaling device for both landline and mobile phones.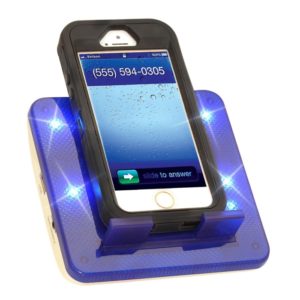 For cell phone use:
Simply place your cell phone (not included) on the RF-200's cradle.  (NOTE: Make sure you have your cell phone set to vibrate with or without ringtone.)
For landline phone use:
Plug your home phone cord into the phone jack found on back of RF-200.
Once you have your desired phone connected, the RF-200 Unit will ring loudly and flash in a clockwise rotation.  Once you answer your phone, you must press RESET on the RF-200 Unit.  Failing to do so will keep the flasher lights on to indicate you've missed a call.
Features of Serene Innovations RF-200:
2.5 mm to 3.5 mm cable included for alerting to social media messages, emails and more on computers and tablets.
Unique flashing patterns to distinguish between incoming calls or messages.
Indicator lights (mentioned above) tell you when you have missed calls or messages.
Detects and alerts to Wireless Emergency Alert public emergency broadcast warnings (if provided by wireless carrier).
Built-in USB port allows you to charge cell phone (USB cord not included).
Adjustable ringtone: HIGH, LOW, OFF
Bed shaker jack (click here to learn more about a bed shaker).
AC powered with battery backup (4 AA batteries not included).
What is included:
Phone cord
AC adapter
2.5 mm to 3.5 mm short cable for tablets/computers
User guide