Are you looking for a way to remain active while sitting at your desk?  Developers of the HOVR™ created a product that allows you to do just that!  The HOVR is essentially an "undermount" device that can either be freestanding or mount directly to your desk.
The idea behind the device is to keep people moving even in the sitting position.  According to their website, the device "produces the closest activity to walking while remaining seated with the added benefit of not being mentally distracting.  By allowing for multi-directional leg movements and leg swinging that mimic walking, HOVR may help counteract many of the problems associated with extended sitting."
Because the device promotes physical movement, studies have shown the device to aid in the following:
Burning calories
Cognitive productivity
Individuals with ADHD and others who need to fidget to focus
Poor circulation.  Physical movement "activates the muscles of the legs aiding in the pumping of blood back to the body.  Improved circulation reduces pooling of blood, swelling of the legs, and risk of blood clots."
And much more.
HOVR + Desk Mount Model:
If you are wanting a solution only for your work desk, check out the desk mount model.  This model comes with the desk mount and six screws for easy installation.  Your desk must be at least 1″ thick for this model to work.
Specs:
Weight: 4 pounds
Dimensions: 14 x 6 x 4 inches
Multiple strap color options: Black, blue, pink, red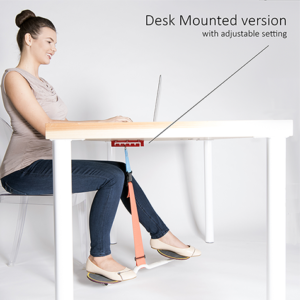 HOVR + Portable Stand Model:
If you'd prefer to have the ability to use the HOVR anywhere, this model comes with a portable stand.  This way, you can use the HOVR while working, watching TV, and more!
Specs:
Weight: 12 pounds
Dimensions: 26 x 8 x 8 inches
Stand color: Black
Strap color options: Black, blue, pink, red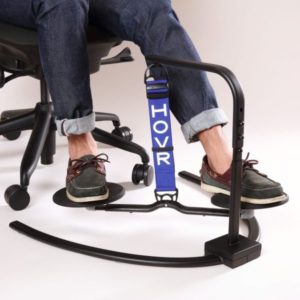 Click here to learn more about the HOVR!