Staying on task has never been one of my strong suits.  (In fact, I've already started writing another blog, researched other topics, and replied to emails after starting this post.)  As a person with ADHD, staying on task is rare.  Personal deadlines and reminders have helped some, but my mind still wanders.  Naturally, when I first saw RE-vibe from Fokus Labs, I had to learn more!
RE-vibe is a new anti-distraction wearable that gently vibrates to keep the wearer on task.  Whenever a teacher would notice my lack of attention, he or she would call me out in front of the class.  This never got me back on task, but rather caused me to shut down from the humiliation.
RE-vibe discreetly reminds people to check and correct their own off-task behaviors.  It fosters independence and confidence in the classroom.  For example, a student is supposed to be filling out an animal worksheet before class is over.  The student successfully fills in his or her name, skims directions and reads the first question, "What animal meows?"
The student begins writing: C-A-T when his/her mind begins to wander, "I want a cat.  They're so cute!  I'd name it Katie after my best friend.  She's so funny!  I'm going to ask mom if she can come over this weekend.  Oh!  Maybe we can get a cat this weekend!  What do they eat?  I'm hungry, I wonder what's for dinner………"
While wearing the RE-vibe, this student will strategically be reminded of the task at hand.  It's "proprietary algorithm empowers users by sending quiet vibrations at strategic intervals to remind them to check and correct their own off-task behaviors." Additionally, the algorithm will switch up variables to reduce chances of the wearer getting used to the reminders.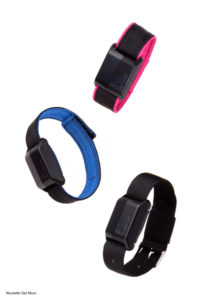 The unique design is completely distraction-free with no screens, buttons, or sounds.  Because the vibrations are "whisper-quiet", surrounding peers won't get distracted by them either.
Benefits of RE-vibe:
Encourages mindfulness and engagement while studying or at work
Designed to foster independence by reducing reliance on supervisors
Battery lasts 7+ days
Easy to use, turns on/off automatically without switches or buttons
Pre-set modes:
Pre-programmed with 4 modes to accommodate various levels of distraction with different reminder frequencies:
First Mode: mildly distracted, reminders about every 10 minutes
Second Mode: moderately distracted, reminds about every 7 minutes
Third Mode: significantly distracted, about every 5 minutes
Fourth Mode or Homework Mode: reminders about every 3 minutes and flashing lights/vibrations provide cues for breaks after 15 minutes of work
Other Features of RE-vibe:
Created by a school psychologist
Ideal for both students and adults
90-day return policy with 100% money back guarantee
Rechargeable battery: charges via micro-USB wall charger (included)
Available in different wristbands:

Buckle Bands: one size fits most
Velcro Band:

Small: 11.5 cm-14.5 cm
Regular: 14.5 cm and up
What you get when you order:
RE-vibe wristband
Charging cable
Micro-USB wall charger
2 programming tools
Want to learn more?  Check out the pilot study's summary found here.