Waiting for a school bus can cause a lot of stress and worry for parents.  If the bus is running behind schedule, you don't want your child out there longer than necessary, right?  If it's dark, freezing, or stormy, worries tend to heighten.  What if there was a way to tell exactly when the school bus would arrive?  What if you could keep your child safe indoors until the bus comes?  With the Here Comes the Bus app, you can!
The Here Comes the Bus app tells you where the school bus is.  When using the service, you'll be able to send your child out in time to catch the bus!  The mission behind the app is to keep children safe and to provide parents' peace of mind.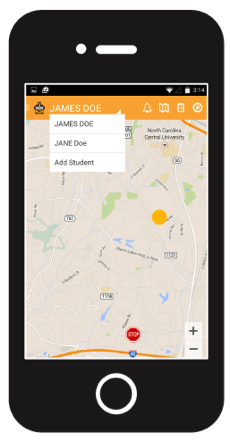 In addition to knowing the location of the bus, the Student Ridership option allows parents to know when their child has entered and exited the school bus.
Student Ridership Option Overview:
What it is: Student-tracking software that can be accessed via the Here Comes the Bus app.
How it works depends on the school district's setup:

Some systems have a barcode or RFID proximity readers on buses and provide barcode cards or RFID cards/fobs that students scan as they enter and exit the bus.
An alternative to the barcode/RFID readers is Synovia Solution's mobile data terminal (MDT), which enables the driver to select the names of the students as they board and exit the bus.
Students can also use Bus Pass to scan their barcode ID on their smartphone.

Student's scanning information is encrypted and secure to keep child's scanning data safe.
If your child's school district doesn't have the Student Ridership service, the website recommends talking to other parents.

Also, "Be sure to discuss it with decision-makers, such as your superintendent, school board members, and transportation director."
Here Comes the Bus App Overview:
Bus tracking software is only available if the school district purchased the Here Comes the Bus software and hardware.
If the school district does offer it, parents can download the free app from Google Play or the App Store.  They can also use service on the website.
What it does:

Shows real-time location of school bus on a map
Give scheduled and actual arrival times at home and school for AM, midday, and PM routes
Provides push and email alerts when the bus is near or when the bus has been substituted
Available in English, Spanish, and French
Check out my Accessibility Minute on the app here!