"There are two problems with hearing impairments: the price and social perception of hearing aids," according to developers at the Olive Union.  Their solution?  The Olive, which is an affordable, sleek alternative to these traditional hearing aids.
Traditional hearing aids can cost more than $4,000 and look like medical devices.  The Olive is the next generation hearing aid that uses a smart sound algorithm and Bluetooth technology.  This smart technology enhances hearing in challenging social environments.  It pairs wirelessly with the Olive App which allows users to test their hearing and helps them manage their hearing profile.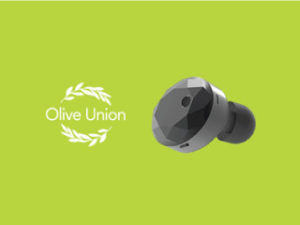 Olive's Key Features:
Price: approximately $100
Hearing self-test via device's app
App available for both Android and Apple devices
Customized hearing profile
Active hearing status management
Completely wireless system
Automatic Bluetooth pairing
8-hour battery life allows users to wear the device all day
Portable charging case for two full charges

Charging case is small enough to fit in a pocket or purse so device can be charged on the go

Multiple silicone tip sizes allow users to find the tip that fits them most comfortably
According to their Indiegogo page, the app and device are currently in the beta-testing phase.  They plan on shipping the final product this December.